Malta is a country in the south of Europe consisting of three separate islands in the middle of the Mediterranean. These are Malta, Comino and Gozo. Each of them has a range of pebble and sandy beaches with swimming spots that will refresh and rejuvenate you. With the azure waters of the Malta beaches that entice you into participating in water sports you never even knew you wanted to try, a holiday on any of the three Maltese islands is bound to leave you breathless. With Nautal, you can rent a boat and visit all three islands in one go, ticking off as many of these beaches as possible.
Malta Beaches on the Main Island
Ghajn Tuffieha Bay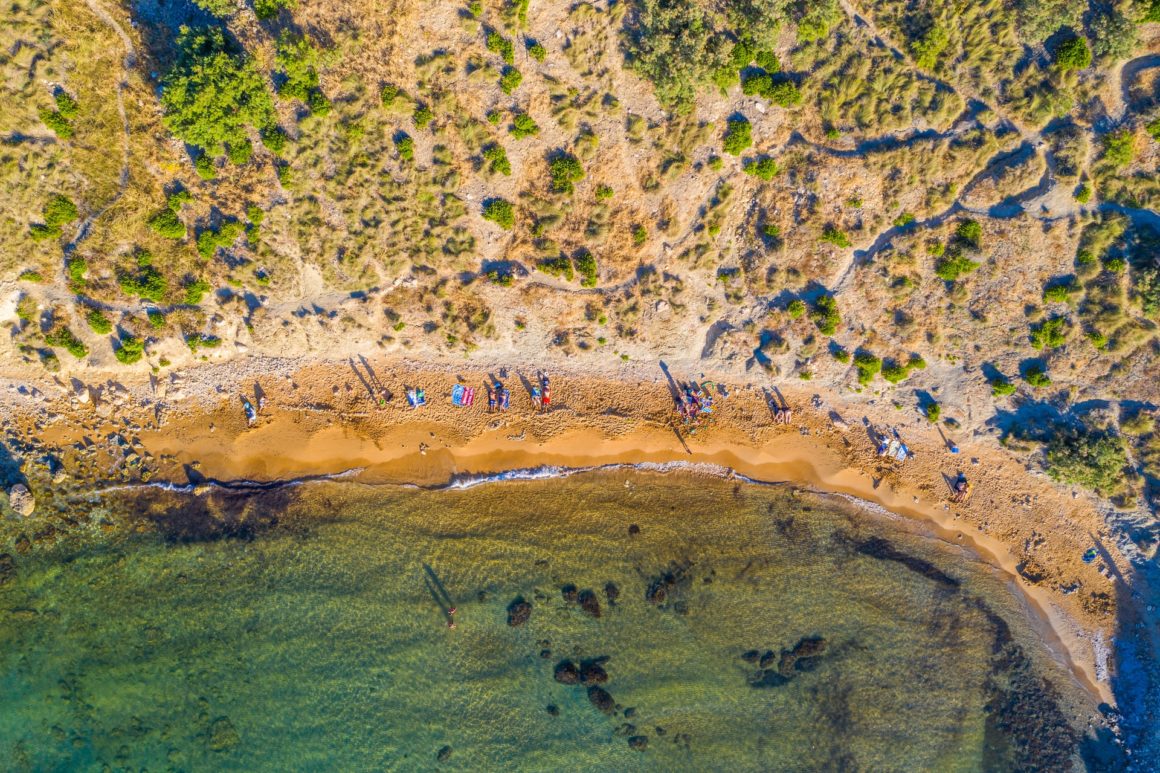 Ghajn Tuffieha Bay, also known as Riviera Martinique, is located in between Gnejna Bay and Golden Bay. It is iconic for the red sands that are typical of Malta's beaches. Located to the north west of Malta, it is easy to see why this beautiful beach is one of Malta's most popular. Unlike the nearby Golden Bay, this beach is less accessible unless you have access to a boat. This means that it is as of yet, virtually unspoilt by man. To reach the beach, you must walk down over 100 steps so be sure to get in shape if you plan on walking there.
Mellieha Bay
Mellieha Bay is Malta's largest and most visited beach. With soft golden sand, it is perfect for relaxing while you work on your tan. The shallow waters of this bay are ideal for swimming with the whole family. However, there are deeper waters further out, which are perfect for trying new water sports. Some of the sports you can try include sea kayaking, windsurfing and waterskiing. It's not difficult to see why this is Malta's most popular beach among locals and holidaymakers alike.
Paradise Bay
The name of this beach is fairly self explanatory; it is literally a beach side paradise. Located at the island's northernmost point, this is without a doubt, one of the most beautiful beaches on the island. Situated at the bottom of some very high cliffs and reachable by a very steep rock staircase, the beach's unique location definitely contributes to its beauty. It is also popular for the amazing views it offers of the islands of Comino and Gozo, which are so close you can sail to them easily from this point.
Balluta Bay, St Julian
Of all the Malta beaches, Balluta Bay is one of the best for trying watersports, swimming, or diving. Its easy access and deep transparent seas make it especially popular, along with the facilities in nearby hotels. In the peak summer months, this bay, particularly the area near Sliema, becomes a bustling hive of activity due to the plethora of beach clubs with access to the public. Even in the autumn when the weather isn't great, you will love watching the spectacular waves crashing against the shore.
St Peter's Pool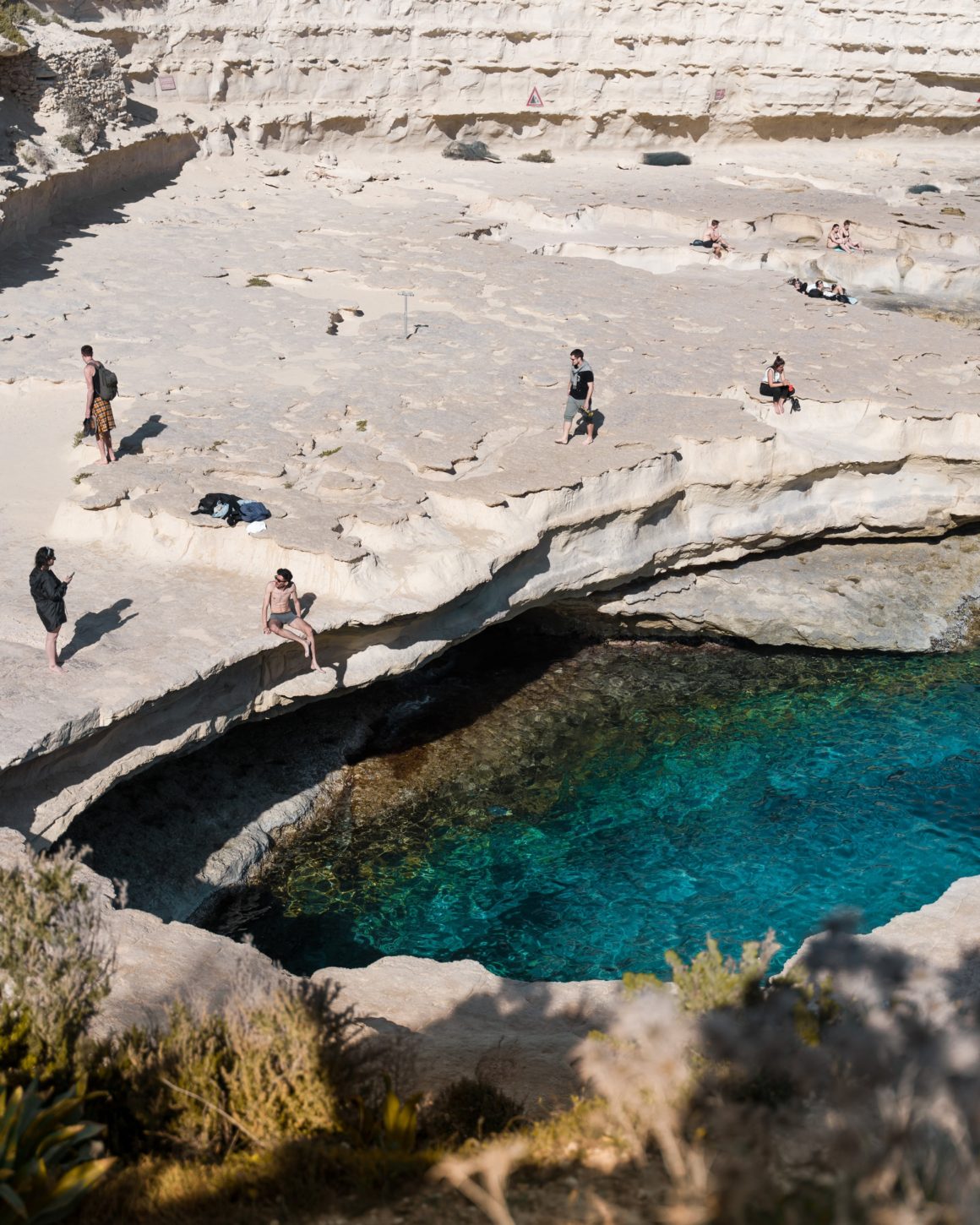 Located near Marsaxlokk village at Delimara Point's tip in southwest Malta, this is a particular favourite among the locals. It is a lot quieter than some of the other beaches on this list, on account of its remote location and the poor quality of the roads leading to it. However, if you do decide to make the trek, it's well worth the trouble!
There are plenty of flat rocks surrounding St Peter's Pool that are perfect for sunbathing. The rocks higher up, meanwhile, offer some shade from the sun. To get to the sea, you have two options. Either you can climb down a ladder leading right down into the water or, if you're a little more daring, you can dive from the rocks a little further up. The one drawback of this beach is that there are barely any facilities. Provided you bring everything you need, you shouldn't let this deter you though.
Malta Beaches on Comino
The Blue Lagoon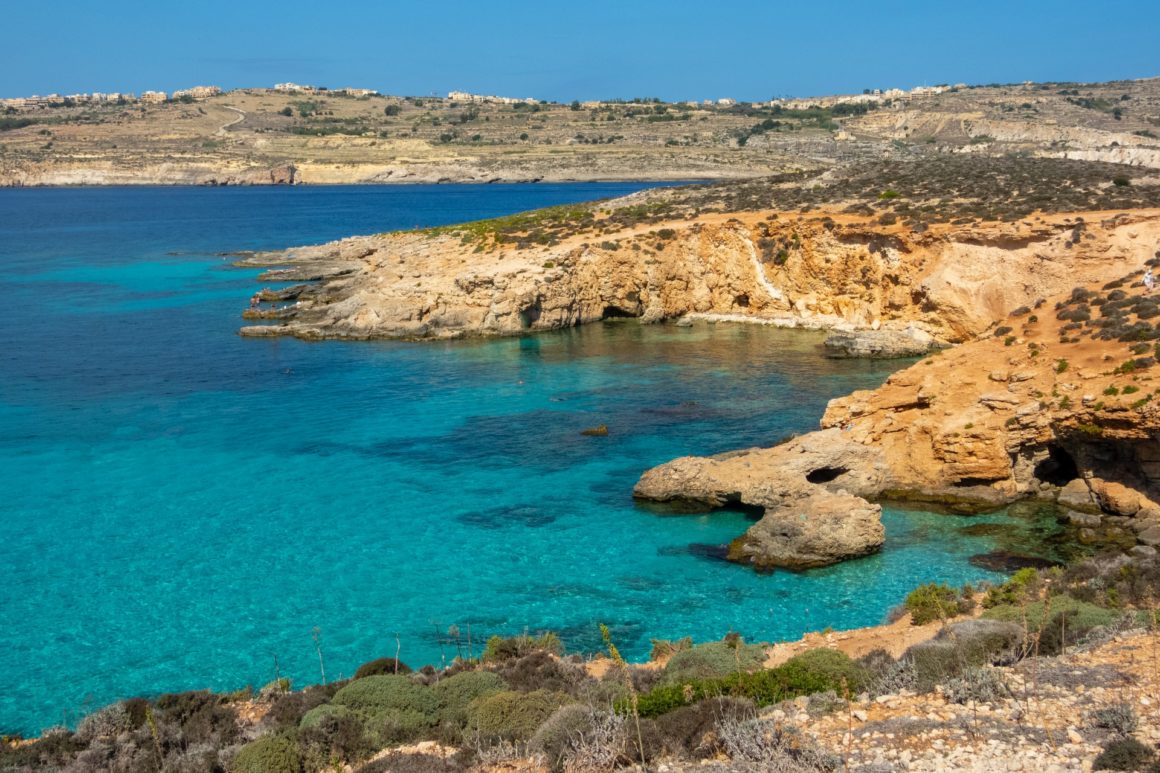 The Blue Lagoon is a breathtaking beach on the island of Comino, bordered by sparkling, crystalline waters. Although a very pleasant place to bathe, sunbathing here can be problematic on account of the beach's popularity. It can be a little too crowded, especially in the summer, making it difficult to find a place to sunbathe. It is also a rocky beach, which can mean that sunbathing on the hard ground is a little uncomfortable. Both of these problems are remedied, however, if you rent one of the sun loungers, which are available for a price of about €5 per day.
This beach is also a great base if you want to explore the island further to find other, more private coves. From the Blue Lagoon, there is a path that crosses the whole island with fantastic views, especially of the neighbouring island, Gozo.
The only drawback of this beach is that there aren't many amenities nearby, including places to buy food. If you want to eat here, it is cheaper to bring food from home, as there is just a small beach bar which serves overpriced sandwiches.
St Nicholas Bay
The crystal clear waters of St Nicholas Bay are perfect for snorkelling. Although the beaches are not always accessible in the summer as they can be reserved solely for Comino Hotel guests, it is definitely worth visiting for a quick swim if you're able. It is one of the more family-friendly Malta beaches, offering plenty of water based activities. It is also less crowded than the Blue Lagoon. This beach is stunning, even during the winter months, when you can go for long country walks to admire the unspoilt natural beauty.
Santa Maria Bay
Santa Maria Bay is one of the safest of the Malta beaches, with lifeguards watching over all the swimmers. It is a small, sandy beach, and although it isn't as beautiful as the Blue Lagoon, it is also quieter. The shallow, clear waters offer ideal conditions for bathing and there are plenty of bins for litter, meaning that it remains clean. Being located next to the police station also increases the level of safety.
Malta Beaches on Gozo
Ramla Bay
Ramla Bay, or Ramla l-Hamra to give it the full Maltese name, literally translates to Red beach and upon arriving, it's obvious why. The second largest sandy beach on Gozo is covered with unique orange-red hued sand. This, coupled with the clear, sparkling seas, makes it one of the most beautiful beaches in Malta. Its location in the bottom of a valley of unspoilt natural beauty further helps to secure this title. Because of its location, as well as the fantastic snorkelling opportunities, it is popular with tourists and locals alike. Although this does mean that this family friendly beach gets very crowded in summer, there is usually space for everyone.
In the centre of the bay, there has been a statue of the Virgin Mary since 1881. Even if this doesn't interest you, we're sure you'll want to explore the Calypso Cave, in the hills on the west side of the beach. From this cave, you will have fantastic views of the whole valley.
There are only two drawbacks of this beach. The first is that the seabed is a little rocky in places so you need to be careful where you put your feet. The second is that there are only refreshment stands in the summer. If you go at any other time of year, you will need to bring your own snacks and drinks.
Dwejra, Azure Window and the Inland Sea
All three of these areas are very close together and form one of the most stunning spots on Gozo. A must-see for tourists and locals alike, it's an area you must add to your holiday's itinerary.
The Inland Sea is a natural lagoon of seawater, which is linked to the Mediterranean Sea by a narrow opening formed by an arch and a 50 metre cave. You'll struggle to find a more picturesque area on the island, from the pebble beach to the shallow, sparkling waters, which are perfect for children. It is also the perfect place to see the traditional, colourful fishing boats of Malta. Furthermore, the Inland Sea and the Azure Window are both great dive sites.
Dwejra matches the Inland Sea's spectacular views, but is not such a great area for swimming. The rougher, deeper seas make it more dangerous for children, but there are some reasons to still visit. With a boat rental, you will have the perfect opportunity to explore the nearby caves.
Wied il-Ghasri
Also known as Ghasri Valley, this beach is situated in a 300m long, narrow creak, of outstanding natural beauty. Bordered by striking cliffs, it looks like it's been taken straight off the front of a postcard. The creek leads out to open sea, where the wealth of marine life, especially by the cliff face, makes it perfect for snorkellers. The underwater caves, particularly the Cathedral Cave are also thrilling for snorkellers and divers to explore. The sea here is mostly calm and although the beach is very small, that only makes it more private. Even in the winter this is a great one to visit as there are great tracks for cycling and country walks.
We hope you have found this blog post useful and that it gives you inspiration for a sailing holiday in Malta. If you have any questions, feel free to contact us. In the meantime, if you want more inspiration for places to go this summer, read this blog post for some top destinations.