Why go island hopping and sailing in Greece?
Greece is a country famous for countless reasons— the birthplace of democracy and philosophy, Greek mythology, ancient ruins, beautiful beaches, thousands of islands, bright turquoise water… We could go on and on.
Millions of tourists travel to Greece each year for a sun-soaked vacation filled with history, beautiful sights, and world-famous food. But the best way to make your vacation to Greece one-of-a-kind and unforgettable is by taking a sailing vacation!
With a boat rental, you can easily island hop and explore the thousands of islands, beaches, and hidden coves that Greece has to offer at your own pace. In this Greek Island guide, we'll cover all the FAQs and top islands to explore during your sailing in Greece vacation!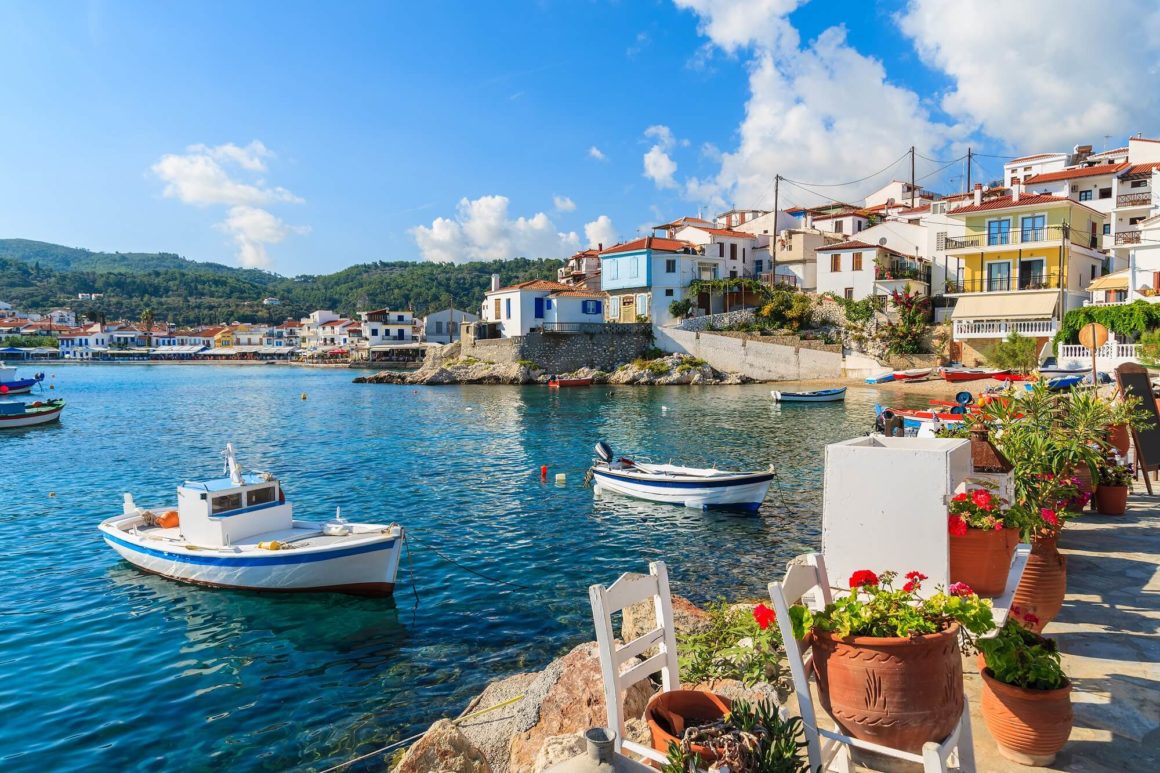 Frequently asked questions
When is the best time to go sailing in Greece?
This all depends on your preferences. If you love the heat, then the summer months of July and August are ideal for you. The average daily high during this time is 90°F, which makes it perfect for swimming and exploring various beaches and islands.
However, for cooler temperatures with fewer crowds, the shoulder seasons of May and September are ideal. The average daily high ranges from 75°F to 82°F and the water remains a perfect temperature for swimming.
What are the sailing conditions like?
The sailing season in Greece is from May to September. Greece is known to have calm waters during this time, especially in the Ionian Sea with an average of 10-15 knots of wind. The Aegean Sea can be slightly rougher with higher wind but is still great for beginners. So you just need to choose if you prefer hot or mild weather to decide if you will visit during peak season or during the shoulder seasons.
How much time do you need?
This also depends on your preferences and availability. With thousands of islands, it is possible to spend the entire sailing season exploring the Greek Isles. Most people spend one week on average on the water. However, you can just take a day or weekend trip depending on how much you wish to see.
What to pack for a sailing trip in Greece
When you are packing for your sailing trip in Greece, you'll want to bring the necessities to prepare for long days in the sun, filled with swimming and snorkeling. Sunscreen, sunglasses, and hats are essentials to protect you from the Mediterranean sun. Do not forget to bring swimwear, extra water, and snacks. And you might want to consider bringing some extras, such as a waterproof camera!
What is the best way to get to the islands?
The most exhilarating and traditional way to get between the islands is by sailing! By sailing with a yacht charter, you can stop along the way at small islands and hidden coves. And it is a quick and direct alternative to taking the ferry or booking a flight. Sailing in Greece is almost more about the journey than it is about the destination.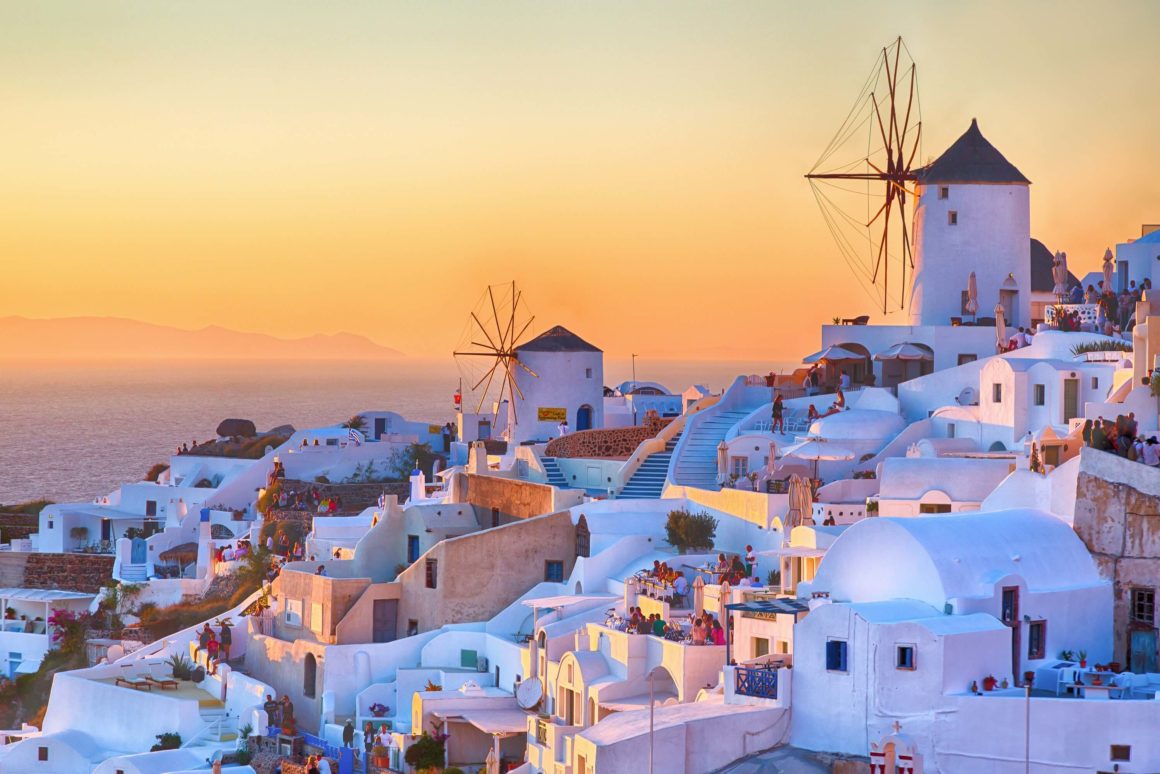 What are the best islands?
To say that you are spoiled for choice when it comes to choosing which Greek islands to visit is an understatement. There are over 6,000 islands, so it can seem overwhelming to choose a sailing itinerary.
We've grouped islands by the various archipelagos and seas to help you in deciding. So pick your favorite group of islands and get ready for your vacation of sailing in Greece!
Aegean Sea
The Aegean Sea is formed by Greece and Turkey and is where the majority of the Greek islands are. We've highlighted some of the various popular islands and archipelagos in the Aegean Sea below!
Cyclades Islands
Islands: Santorini, Mykonos, Milos, Paxos, Naxos, Paros, and more
The Cyclades is home to arguably the most famous Greek Islands. There are about 220 islands in the Cyclades, so it is quite easy to spend the entirety of your sailing vacation exploring these islands. Twenty-four of these islands are inhabited and create beautiful stops along your way.
The Cyclades' culture, architecture, and nature are some of what Greece is most famous for—white buildings, sandy beaches, crystal clear water, hospitable people, and striking cliffs. With your yacht charter, you can easily island hop and see why the Cyclades Islands are world-famous.
Sporades Islands
Islands: Alonnisos, Skiathos, Skopelos, Skyros, and more
The Sporades Islands consist of 24 islands, four of which are inhabited islands. You might recognize some of the landscapes from the movie Mamma Mia since some of the filmings took place on Skiathos and Skopelos.
Known for their beautiful beaches and relaxing atmosphere, the Sporades Islands are a must-see stop on your sailing itinerary. These islands are also near Athens and mainland Greece if you have a flight from Athens or want to make a stop while sailing the Greek islands.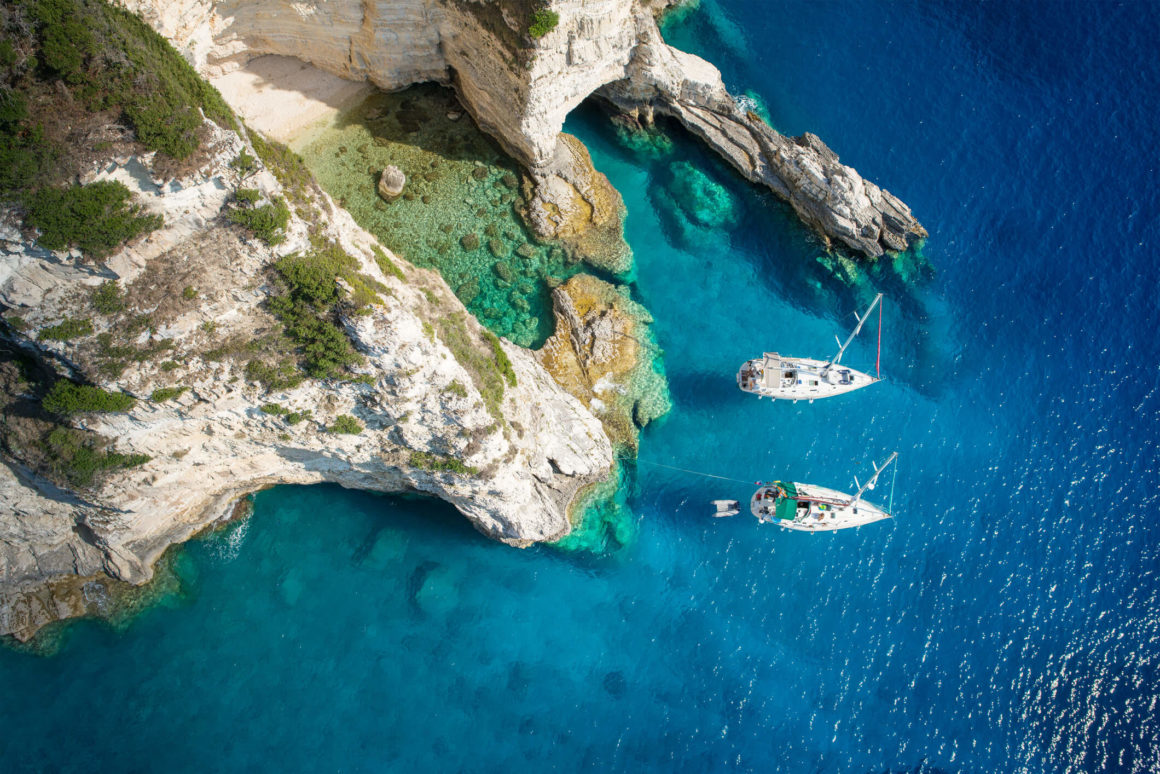 Dodecanese Islands
Islands: Rhodes, Kos, Karpathos, Symi, Patmos, Kalymnos, and more
Located in the southeast of the Aegean Sea, the Dodecanese Islands are one of the furthest archipelagos from mainland Greece and one of the nearest to Turkey. Each island is known for its own unique features, leaving so much for you to discover on your sailing trip.
The Dodecanese Islands are some of the most authentic and least explored Greek islands, leaving you with hidden gems to see and explore. These islands have often changed ownership between Italy, Turkey, and Greece in previous years, creating a unique cultural and historical mix among the islands.
Northeast Aegean Islands
Islands: Thasos, Samothraki, Lesvos, Lemnos, Chios, Samos, and more
The Northeast Aegean Islands are the islands that border the Halkidiki region of Greece and northern Turkey. Famous for various philosophers, intellects, and mythologies, these islands are as beautiful as they are historical!
By sailing around the Greek islands of the Northeast Aegean, you can explore what each has to offer. You can also easily access the Halkidiki Peninsula, Sporades Islands, Cyclades Islands, and Dodecanese Islands, which will leave you with plenty to see and discover.
Saronic Gulf
Islands: Aegina, Hydra, Salamis, Poros, Agistri, and more
The Saronic Gulf is located in the bay of which Athens is a part. Therefore, The Saronic Gulf Islands are the best choice if you wish to be based out of Athens on your sailing vacation.
If you are short on time or wish to take a shorter sailing trip, the Saronic Islands are for you. These islands are perfect for day trips from Athens and are a good starting point for exploring the rest of the Aegean Sea on a sailing vacation. Known for their cosmopolitan atmosphere and beautiful beaches, these islands are sure to delight you.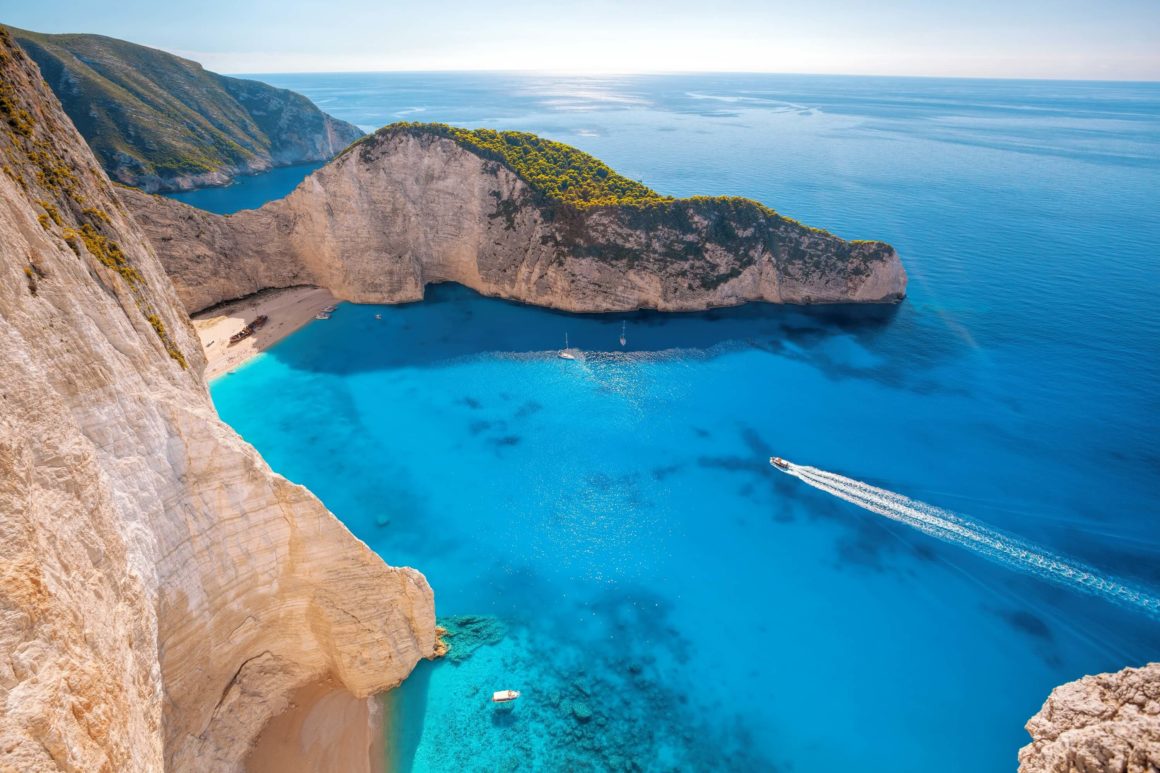 Ionian Sea
On the east coast of Greece lies the Ionian Sea. In this sea, there is one archipelago rightly named the Ionian Islands. Compared to the islands in the Aegean Sea, the Ionian Islands are more quiet and laidback, but just as beautiful in their own way!
Ionian Islands
Islands: Corfu, Ithaca, Kefalonia, Zakynthos, Lefkada, and more
From the olive groves of Corfu to the fame of Ithaca from the Odyssey, there is so much to see and learn about in the Ionian Islands. Whether you are taking a family trip, a romantic getaway, or exploring with friends or family, a sailing trip in the Ionian Islands is the perfect destination for you.
To add to the relaxed atmosphere, the Ionian Sea is known for its calm winds, which makes it a perfect sailing destination for families and first-time sailors. And with emerald waters, pristine beaches, and lush nature, these islands will help you create an unforgettable adventure.
Get ready to go sailing in Greece!
The possibilities for a sailing vacation in Greece are endless! No matter your preferences and your experience level, there is a multitude of bucket-list-worthy itineraries waiting for you in Greece. So rent your dream boat and get ready for an adventure of a lifetime!