Catamarans have increasingly become a hot topic and travel trend in recent years. More and more people are choosing to rent a catamaran for their sailing vacations. So you might be wondering what is a catamaran? And what makes them so popular? We'll cover all you need to know and why you should rent one on your next vacation in Thailand or beyond!
What is a catamaran?
A catamaran is a type of sailboat, which makes it an environmentally friendly option. What sets it apart from other kinds of boats is that it is multi-hulled. The twin hulls make it more stable and so it does not have the typical rocking motion that mono-hulled boats are known to have. This makes catamarans a perfect option for those that get motion sickness. This also adds an element of extra safety.
Catamarans are also known for how much space they have. Because they have two hulls with a bridge deck, they have more space in the cabins below the deck and a larger platform above. This means that there is more space for outdoor and indoor living.
Lastly, catamarans usually have a shallow draft, which makes them able to reach shallow water. This means that you can reach secluded beaches, coves, and sand bars that other monohull boats might not be able to.
Why take a catamaran vacation?
Now that you know what a catamaran is and what sets them apart from other types of boats, you might be asking why you should take a catamaran vacation? Let's take you through what makes this type of boat so popular.
First off, the stability and spaciousness of catamarans will help prevent seasickness and are perfect if you are traveling with kids. Additionally, this means there is more space for amenities, like a bar, full kitchen, nets overlooking the water, and more. This way there will be more space to relax and indulge.
And if you rent a boat, why not rent one that can reach all the hidden gems in the area? You won't have to worry about that with a catamaran because you'll easily be able to reach any area, no matter how shallow the water is.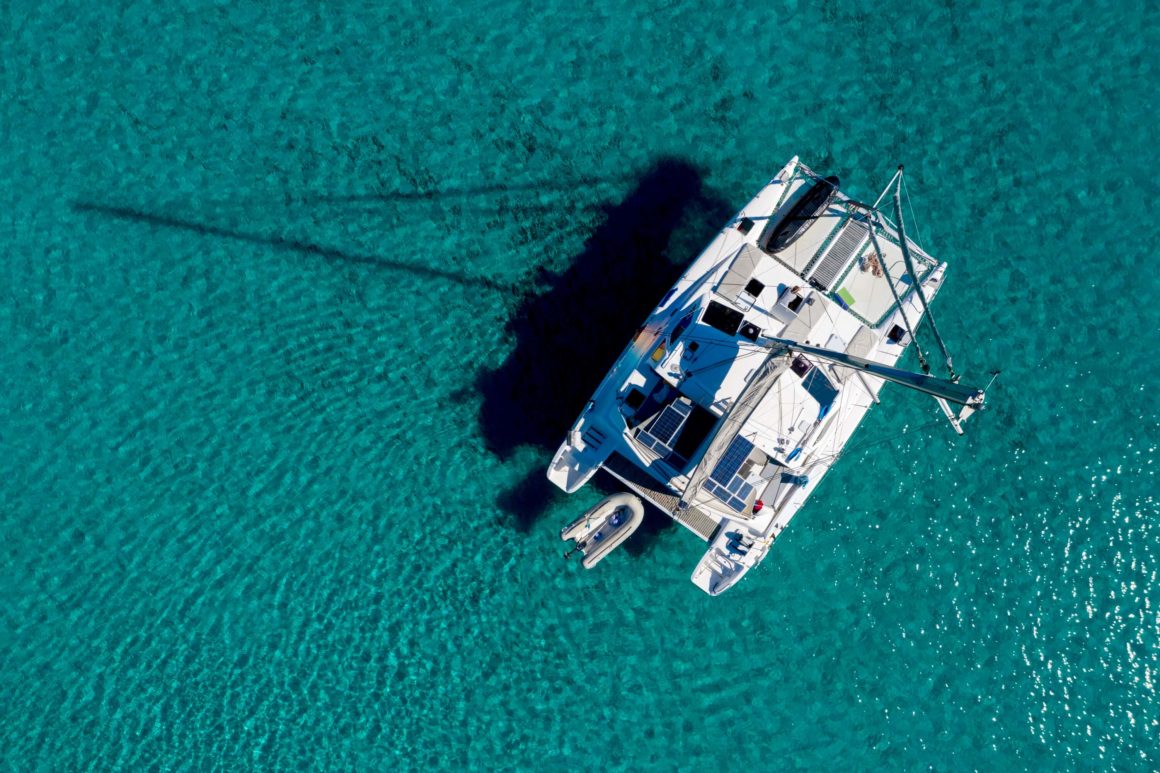 What are the best catamaran brands?
There are so many brands to choose from. We've highlighted some of the most popular to give you a basic idea.
Fountaine Pajot
Fountaine Pajot is known for its high-quality and powerful catamarans. Their boats are beautiful with luxurious living spaces. What sets Fountaine Pajot boats apart is their high performance as sailing yachts.
Bali
Bali boats, owned by the Catana Group, specialize in innovative and unique designs. What sets them apart is their open-space concept with panoramic views and large lounging areas. They truly bring outdoor/indoor living to life on a boat.
Lagoon
Lagoon is the most well-known catamaran brand. What makes this brand so popular is its trampoline nets, which are the famous nets that overlook the water. These are the perfect place to relax, sunbathe, or snap a photo for Instagram. And while these boats are known for their comfort, they also have great sailing performance.
What to bring on a catamaran trip?
While catamarans have more space than other boats, it's still important to remember that there is limited space so pack lightly. Do not forget to bring the essentials, such as your passport, sunscreen, sunglasses, swimsuits, and a waterproof camera. Depending on if your boat rental already provides it or not, it may be fun also to bring snorkeling equipment.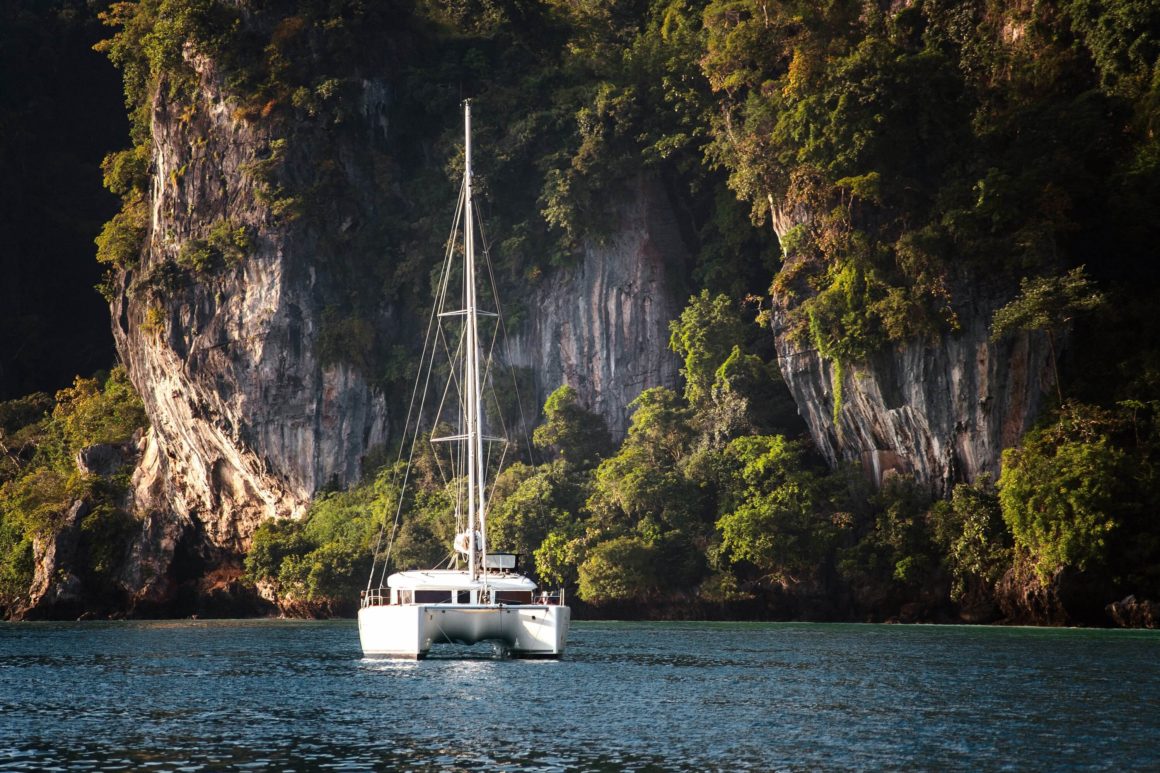 What are the best destinations to sail a catamaran to in Thailand?
Gentle tides, year-round warm weather, beautiful islands, and endless coastlines— these are just a few of the many reasons that make Thailand one of the best destinations for a sailing vacation. To add to its fame, Thailand has been the filming location for several movies and shows, such as for season three of White Lotus. With a catamaran, you can explore the various spots that make Thailand such a famous travel and sailing destination. Here are a few of our favorite places to sail to in Thailand.
Phuket
Phuket is the perfect starting point for your yacht charter because of its location in the Andaman Sea near the Phi Phi Islands, Phang Nga Bay, and more. It has a lively city, natural beauty, well-maintained harbors and marinas, and so much more. Since it is so central to so many sought-after locations, you will have great options and availability of catamarans.
Phang Nga Bay
A short sail away from Phuket is Phang Nga Bay, which presents a great opportunity for a day trip. This bay is famous for so many reasons, but potentially the largest reason is that James Bond Island is located here. But there is so much more to see and explore! With several islands to discover, beautiful emerald green water, amazing limestone karsts that extend from the water, and so much more, Phang Nga Bay is a must-see on your sailing trip.
Phi Phi Islands
The Phi Phi Islands, or Koh Phi Phi, is also just a day trip away from Phuket. Koh Phi Phi is said to be one of the most beautiful islands in the world. If you like snorkeling then this is the place for you because it is well-known for its marine life! These islands also have some Hollywood fame since The Beach with Leonardo DiCaprio was filmed here.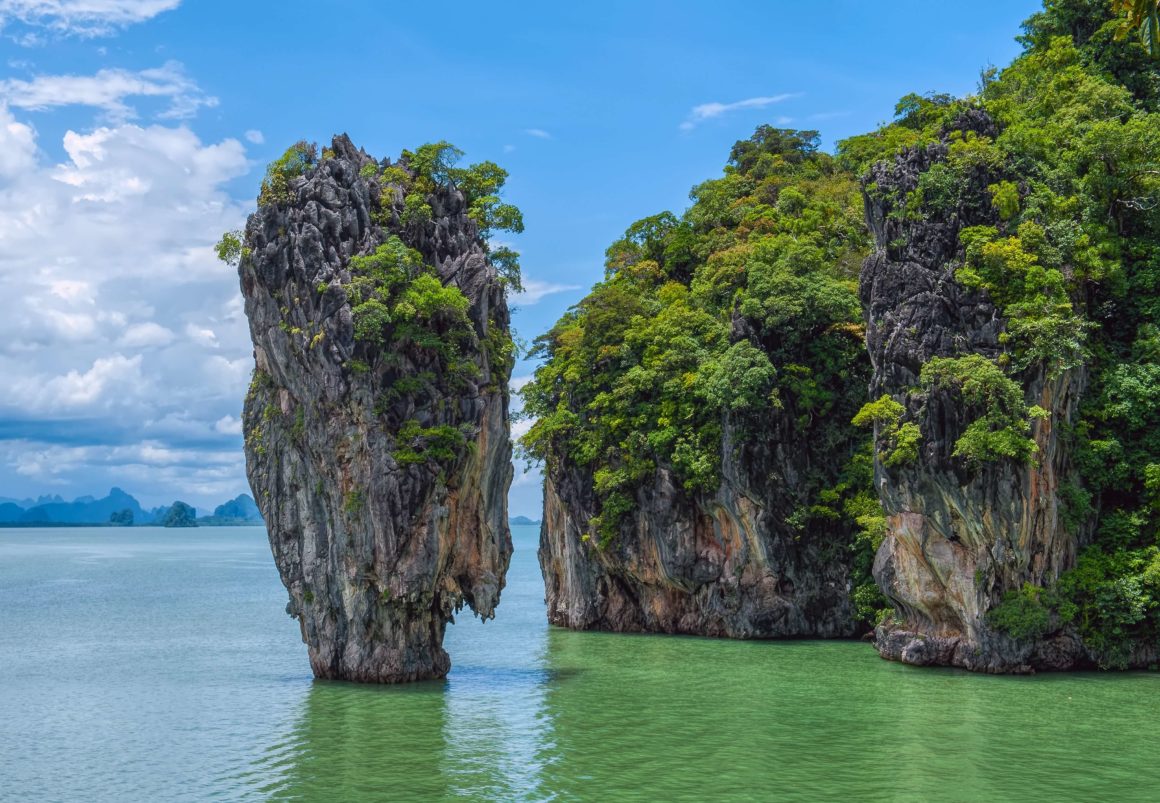 Koh Samui
Koh Samui lies just across the mainland in the Gulf of Thailand. This island is a popular tourist destination because of its sandy beaches, luxury resorts and spas, beautiful nature, and laid-back atmosphere. With your catamaran charter, you can experience the luxury and charm of this island.
Get ready to set sail
With your new knowledge of catamarans and sailing in Thailand, you are ready to set sail. Find your dream catamaran rental and get ready to experience a sailing vacation you will talk about for years to come!