Welcome to Thailand!
Welcome to the Land of Smiles! Thailand is a charming country that naturally combines fun and leisure like no other country. Prepare your taste buds for an explosion of flavors with the local cuisine, let your imagination run wild with ancient historical sites, enjoy world-renowned Thai massages, and all by boat on your next Thailand vacation!
Where exactly is Thailand? Thailand is located in Southeast Asia, bordered by the Gulf of Thailand to the southeast and the Andaman Sea to the southwest. This gem of a country finds itself also between Myanmar and Laos, driving travelers to embark on a journey of cultural immersion. Get ready to reveal the wonders that make Thailand an extraordinary place. Let's dive deep into the depths that await you!
How to get to Thailand
When it comes to reaching the tropical haven of Thailand, you've got options! You can either fly directly to Phuket Airport (HKT) or get a connecting flight from Bangkok to Phuket after flying to Bangkok's Suvarnabhumi Airport (BKK), which is the country's main airport.
Best time to visit Thailand
Thailand boasts favorable weather for more than half the year, making it ideal to always visit! The high season, which usually goes from November to February, is the ideal time to charter a boat. During this period, you can expect cooler temperatures and lower humidity, creating comfortable conditions for water activities and the perfect Thailand vacation. The average temperature during the high season ranges from the mid-70s°F to the low 80s°F.
If you plan to visit Thailand outside of the high season, the shoulder months offer excellent conditions as well. The shoulder seasons of March to April and October to early November still have more than pleasant temperatures, ranging from the high 70s°F to the mid-80s°F.
Tips when visiting Thailand
Before you depart for a Thailand vacation, come prepared knowing some of the local laws and unspoken rules. Knowing some of these tips will help you respect Thailand and ensure a safe and memorable trip.
Currency
The official currency in Thailand is the Thai Baht (THB), but in popular tourist areas, some establishments may accept US dollars. It's advisable to have some Thai Baht for day-to-day transactions and small businesses that may not accept foreign currencies.
Night sailing
It's important to know that night sailing is generally forbidden in Thailand. Ensure your boat rental follows the local regulations and plan your sailing activities accordingly during daylight hours.
Tap water
To avoid the risk of waterborne illnesses, it is recommended to avoid drinking tap water in Thailand. Stick to bottled water and use it for drinking, brushing your teeth, and washing your fruits and vegetables.
Shoes off
In Thai culture, feet are considered the dirtiest part of the body. It is customary to remove your shoes when entering temples, people's homes, spas, and certain establishments. Be mindful of this practice and follow the locals' lead.
Locations you must visit!
On your Thailand vacation, many locations warrant a boat rental and have many attractions you should experience from land and sea! Take a peek and get a little insight into catamarans and the different cities in Thailand.
Ko Samui District
Picture yourself in a tropical paradise surrounded by palm-fringed beaches and swaying coconut trees. That's Ko Samui for you! This island district in the Gulf of Thailand offers a combination of relaxation, water activities, and vibrant nightlife.
Take an opportunity to thoroughly enjoy the waterfront and the various water activities in the Ko Saumi District! Dive into the colorful reefs, ride a jet ski, or soar above the water while parasailing. Whether you're looking to soak up the sun, spoil yourself with a beachside cocktail, or dance the night away, Ko Samui has got you covered.
Krabi
Prepare to have your breath taken away by the beauty of Krabi. With its stunning karst formations rising dramatically from turquoise waters, it's like stepping into a postcard. Explore hidden coves, such as Phra Nang Cave Beach, tucked away at the base of the tall cliffs. Another option is to kayak around the cliffs and see the natural wonders up close and personal. Krabi is a playground for adventure lovers and beach bums alike, also offering island hopping, snorkeling, and relaxing massages on the beach. It's a paradise with a side of excitement!
Thang District
Continue your adventure by traveling down to Thang District, situated in the southern part of Thailand's Krabi Province. Here, you'll find the mesmerizing Railay Beach, protected by limestone cliffs that make you feel like you've stepped into a movie. Or explore the magical Thale Noi Lake, known for a variety of wildlife and serene beauty. Whether you're a rock-climbing fanatic or simply seeking a little bliss on the water, Thang District will leave you in awe.
Phuket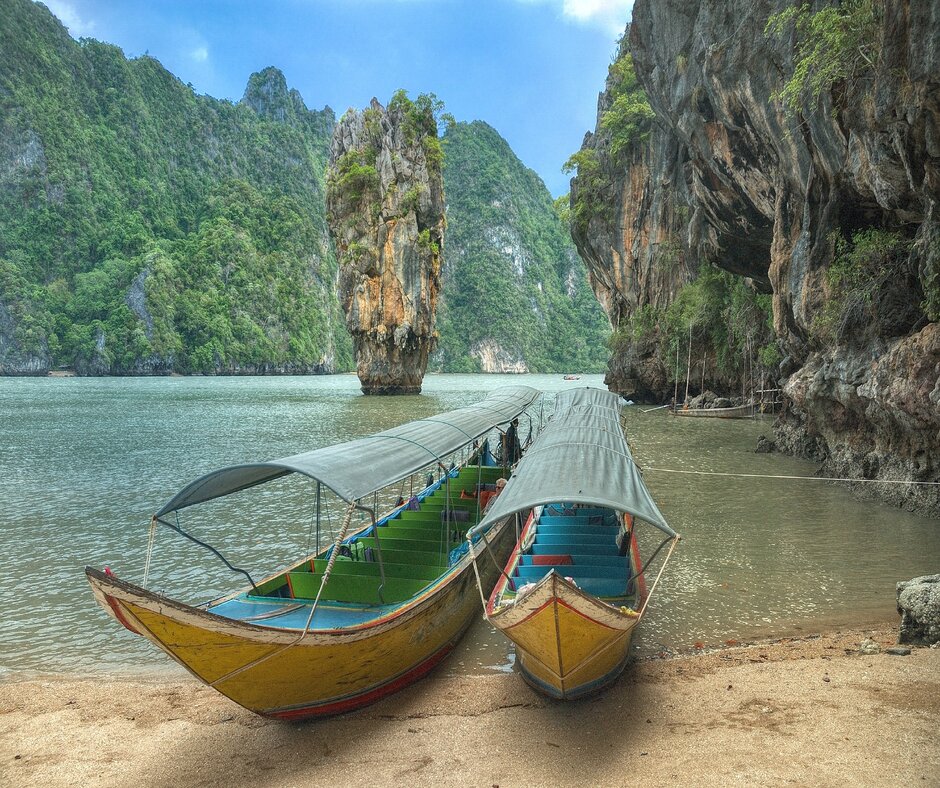 Next, we have the island that never sleeps – Phuket! This buzzing destination in the Andaman Sea has it all: pristine beaches, glamorous resorts, and a nightlife that rivals any party hotspot. When you're not lounging on the beach or enjoying mouthwatering Thai cuisine, dive into the crystal-clear waters and explore the nearby islands. Or take a day trip on your boat charter and explore James Bond Island. This island is famous for being featured in the James Bond movie "The Man with the Golden Gun". Phuket is perfect, where the senses are consumed by beauty and wonders all around.
Koh Chang Tai
Seeking a peaceful escape from the crowds? Look no further than Koh Chang Tai, the western part of Koh Chang Island. This untapped treasure offers a calm oasis with lush rainforests, refreshing waterfalls, and secluded beaches. Also, popular for its snorkeling, take an opportunity to dive into a kaleidoscope of reefs and tropical fish. It's the kind of place where time slows down, and you can truly reconnect with nature while enjoying a fresh drink. It's a slice of paradise that's perfect for those seeking a little solitude.
What are some things to not miss?
There are so many must-dos and must-sees. Thailand holds many unique experiences, whether you want to kick your feet up and relax, adventure into diverse ecosystems, or party hard. Here are some suggestions we have for your next Thailand vacation!
Koh Lanta
The first recommendation asks you to get your explorer hat on and venture into the wonders of Koh Lanta! Moore your boat and brace yourself for an experience through lush greenery, where nature plays hide-and-seek with its hidden wonders. Prepare to meet towering trees, encounter beautiful wildlife, and stumble upon jaw-dropping waterfalls. It's like stepping into a jungle paradise, where excitement and amazement wait!
Underwater Sculpture Park
Next, do not miss the opportunity to dive deep into an Underwater Sculpture Park in Ko Racha Yai. Make a splash and plunge into the world of the underwater sculpture park in Ko Racha Yai. Picture an underwater art gallery where corals move to the rhythm, tropical fish dance, and sculptures emerge from the depths. It's like exploring Atlantis but with better company and an awesome soundtrack.
Full Moon Party
If you are in a party mood, then experience the Full Moon Party in Koh Phangan. Join the mother of all beach bashes and prepare for a night of dancing, mingling, and where fun takes center stage. Sail your boat charter to the island and park for the night to enjoy this monthly event. With music that shakes your soul, fire shows that light up the night, and an unforgettable vibe, this is where memories are made, and stories are created.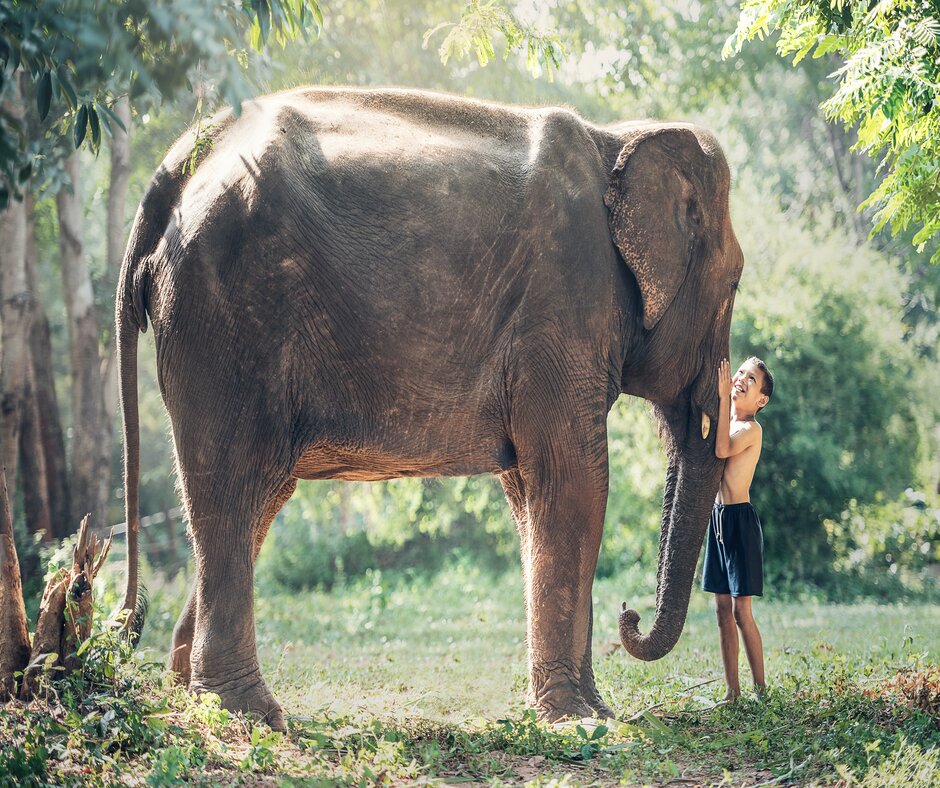 The Elephants of Chiang Mai
Thailand is distinctively known for elephants, as they hold a strong cultural and historical significance for the country. Take this opportunity to hang out with the Elephants in Chiang Mai. Leave your worries behind and spend quality time with gentle giants at the Elephant Nature Park in Chiang Mai. Witness these magnificent creatures in their natural habitat and let their playfulness and heartwarming interactions melt away your stress (melt you. Please note that you should not ride the elephant, as they are not designed for this, and it stresses their bodies. It's a chance to walk in their enormous footsteps and become an honorary member of the pachyderm club – no trunk required.
Ayutthaya
With the final recommendation on our list, prepare to be transported to another era as you explore the UNESCO World Heritage site of Ayutthaya. Uncover the secrets of ancient temples, towering ruins, and architectural wonders that have so much history. It's like discovering a time machine where each step reveals a new chapter of Thailand's past.
Sail in Thailand
Now that you know what makes Thailand amazing, how can you not picture yourself here and resist the temptation to rent a boat? Get ready and turn your dreams into reality as you go on an exciting adventure to the Land of Smiles. With a wealth of unforgettable experiences waiting for you, there's no better time to set sail and create unforgettable memories on your Thailand vacation.