If you prefer sleeping onboard your own private aquatic hotel instead of a tourist-packed hotel, then this post is for you. Discover the best places for mooring in Ibiza and plan your dream holiday onboard a boat rental in Ibiza.
The Top 10 Places for Mooring in Ibiza
Find out where to moor in Ibiza and what kind of coves, beaches and private islets Ibiza holds in store for you. The following locations are our top 10 choices from a hundred blissful locations for docking at shore or sea.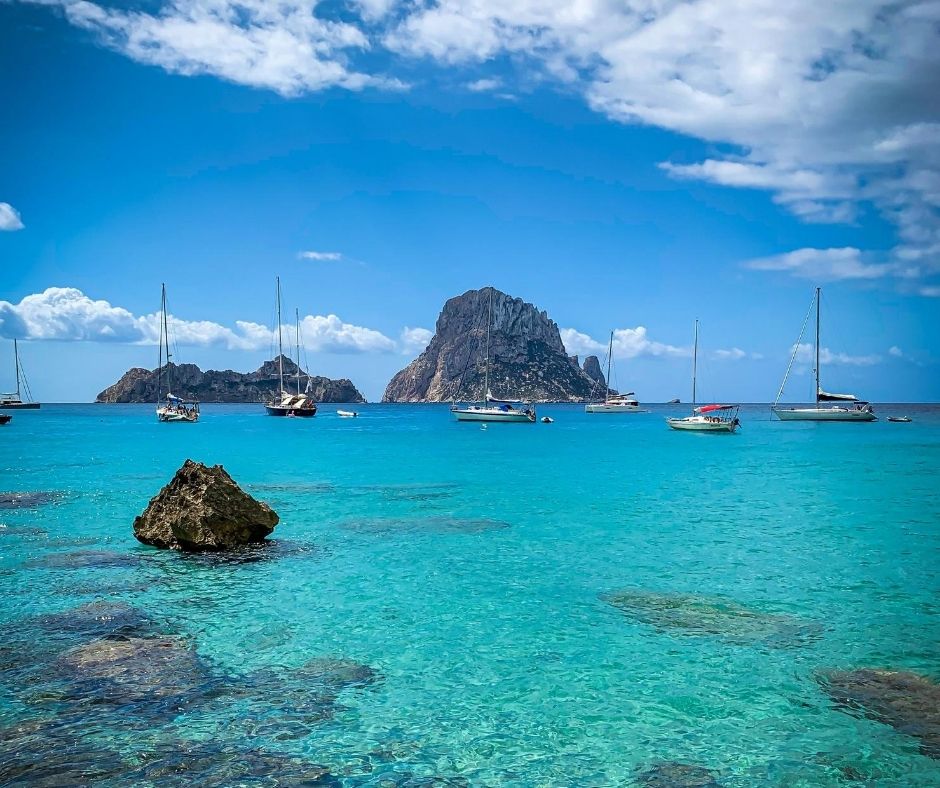 Cala Jondal
Considered one of Ibiza's top and most popular beaches, Cala Jondal has not always been this popular as it is a much rockier beach than others. However over time, visitors have learnt to appreciate its silky soft sand under its bright turquoise water. This area is particularly popular for luxurious yachts holidays in Ibiza. Note that mooring near Neptune grass (Mediterranean tapeweed) is prohibited.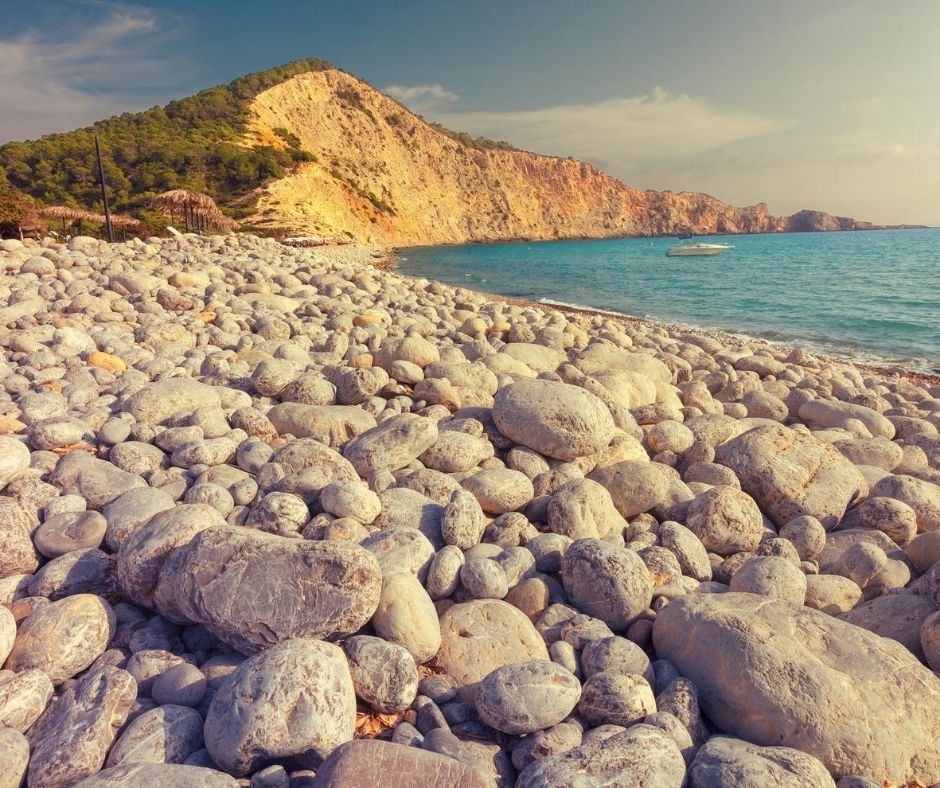 Ses Ovelles
Located on the South Coast, Ses Ovelles is the ideal private paradise and fantastic for nature lovers. A peaceful sleep is guaranteed here given that there are no buildings nearby and you can shelter from a westerly wind or dock on the other side to shelter from an easterly wind. This is also a great location for those sailing in Formentera who want to explore Ibiza.
Es Bol Nou
This gorgeous turquoise beach allows you to observe the smaller more bohemian island of Formentera glowing at night. This beach is surrounded by leafy green nature and makes for a soothing marine environment. Many of the rocks and cliffs in this area have a sandy red glow which makes the sea look even brighter.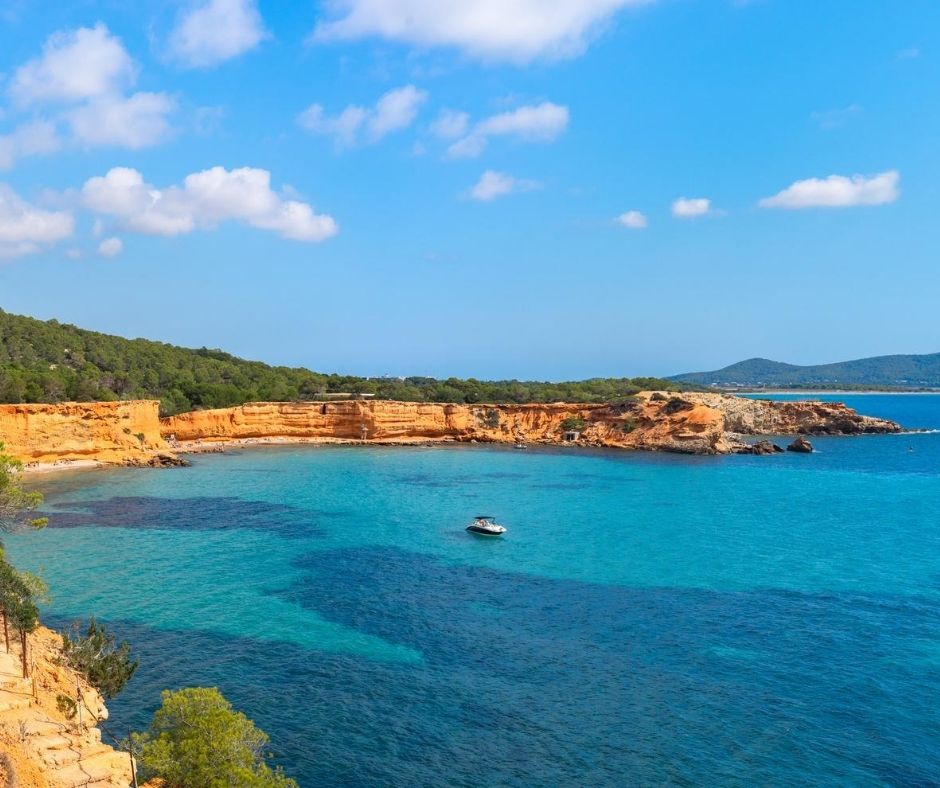 Cala Molí
This cala is often occupied with a fisherman or two as it has lots of fish and other marine life. If you're into snorkelling or diving, this is a superb place to stop. The water here is usually nice and calm which is perfect for swimming or snorkelling near your boat rental.
Cala Carbó
Don't forget Cala Carbó, it is a tranquil sandy beach located on the West Coast of Ibiza, making it ideal for a catamaran rental where you can dock in shallow shiny blue water and enjoy a spectacular view of the starry night sky in the evenings.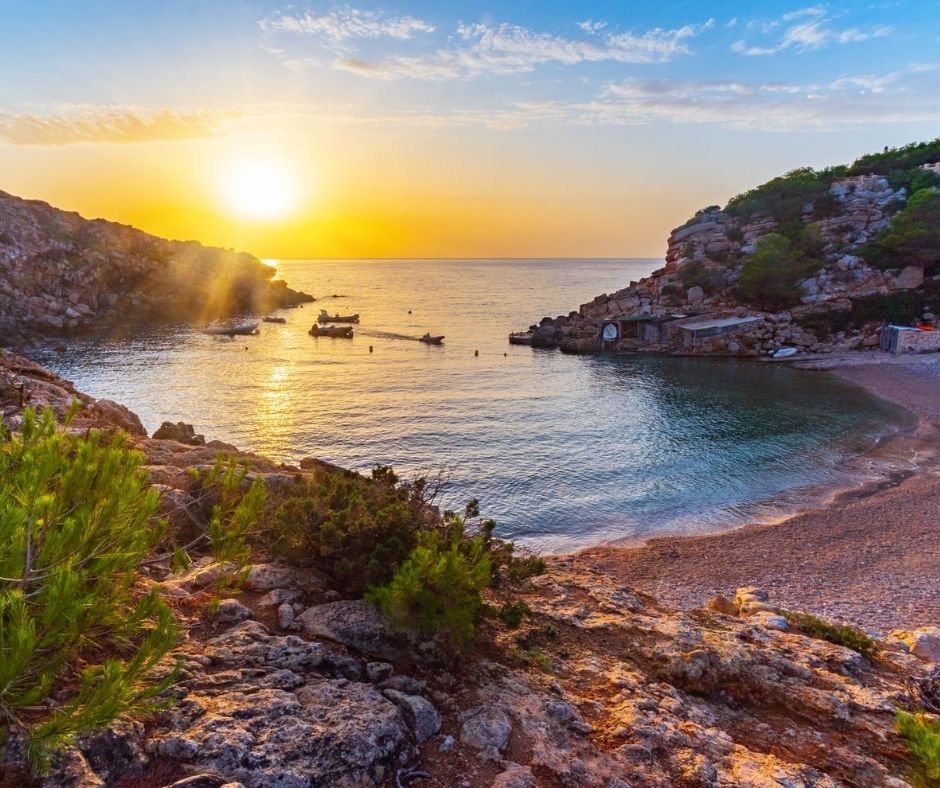 Cala Vedella
This beach is perfect for families or groups of people who want to enjoy a classic sandy shore with the possibility of relaxing at the bar with a refreshing cocktail. The water at Cala Vedella is usually steady which is great for small children (but please remember to keep an eye on them in any case).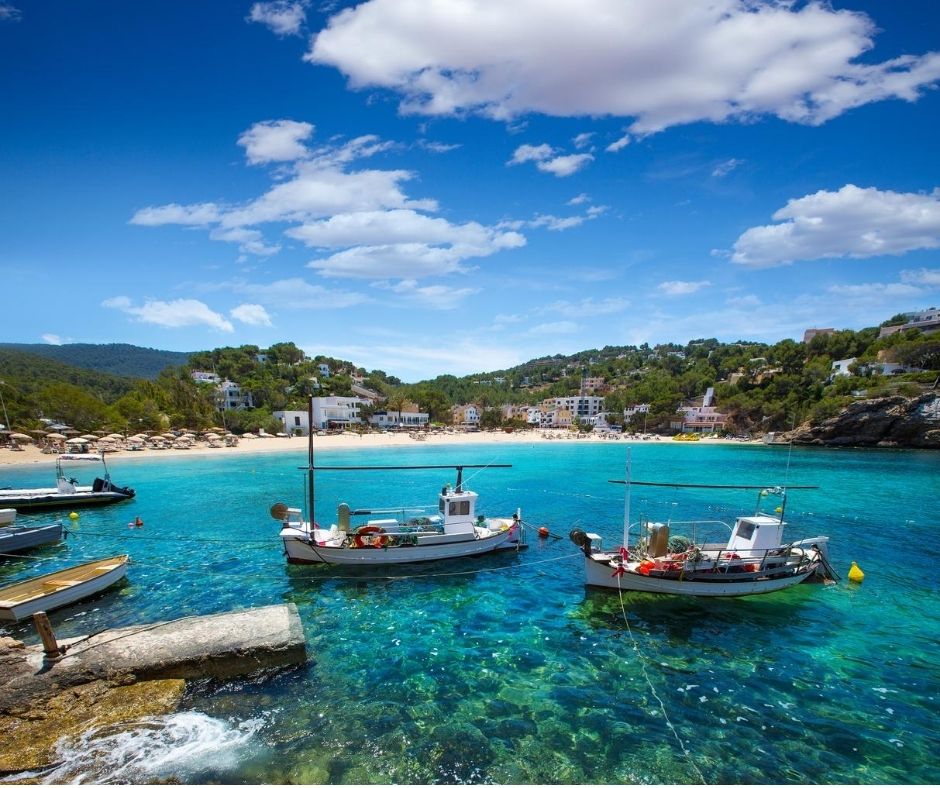 Cala d'Hort
Cala d'Hort is a great overnight mooring option for those on a sailing boat rental in Ibiza. The chunky sand makes the seashore a little more original and the views of Es Vendrà are spectacular.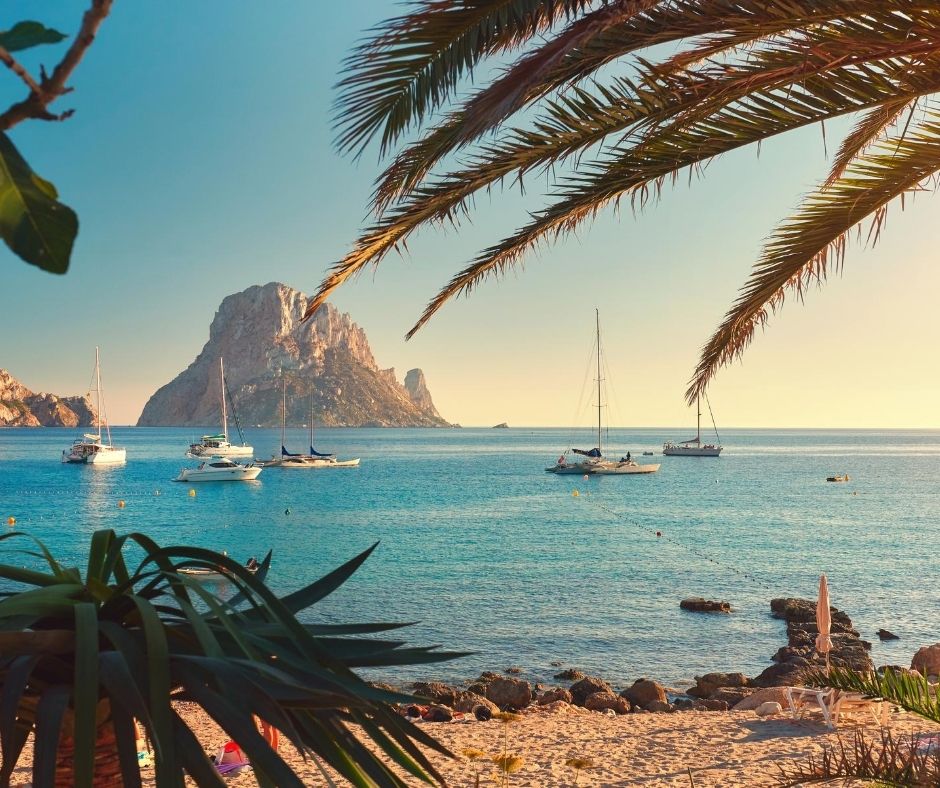 Los Molinos
Los Molinos is a calm beach in spite of the fact that there is a hotel nearby. There are also three other smaller more secluded coves where you can dock and go snorkelling and discovering the underwater world. The beaches have services and you can enjoy a delicious paella if you fancy spending some time on the shore.
Cala Tarida
This area comprises four glorious beaches and many secret secluded coves. We would definitely recommend mooring at a quieter cove as the beaches are rather popular, yet you might want to visit them to find out why for yourself. You can also visit Es Calonet, a natural pool where you can enjoy a relaxing dip.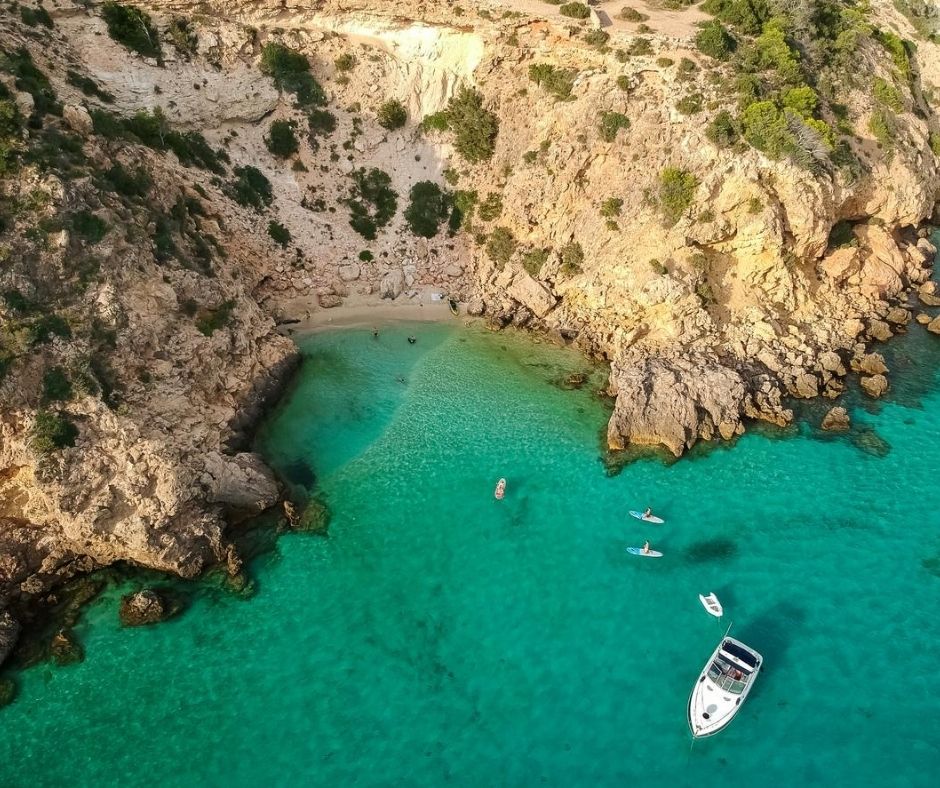 Es Comte de Tramontana
Arguably one of the best places to moor in Ibiza, but mainly due to its natural beauty and crystal clear water. The sand is soft, the water is cool and if you're sailing, you can enjoy this popular place without feeling overcrowded.
If you're feeling spoilt for choice, remember that on Ibiza you can explore as many coves and beaches as you like and at your own pace—ideal for peak season, too. Want to find more places to anchor in Ibiza? Read the second part!