Share the post "Our Sailing Itinerary in Croatia: Zadar, Biograd na Moru, Kornati and Šibenik"
Choosing our destination
This was the first charter that we did outside of Spain. On this particular occasion, we were two families; 4 adults and 3 children aged between 5 and 6 years old. Upon choosing our sailing destination, we thought about Central Greece, but because we wanted to go in the middle of August, we decided against it, due to the risk of the etesians meltemia—a strong northerly wind on the Aegean Sea which can last days. In the end, we concluded that a navigation route in Croatia would be the most ideal.
We then debated sailing in the south of Croatia, such as a navigation route near Dubrovnik and the surrounding islands, but ultimately we opted to rent a boat in the central zone of Croatia. This area has a large density of small incredible islands, which means that waves are not as big and you can easily find leeward refuge from any island.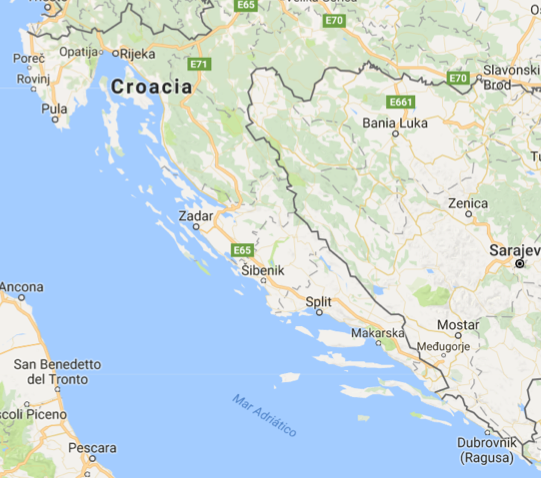 We departed from Marina Kornati, in Biograd na Moru, which is approximately 20 kilometers to the south-east of Zadar.
Choosing a Boat
As I have previously commented, up until now, we have always rented a sailboat in Ibiza, Mallorca, Menorca or Costa Brava. However, seeing as this time we were two families and three children, we opted for a catamaran as opposed to a sailboat.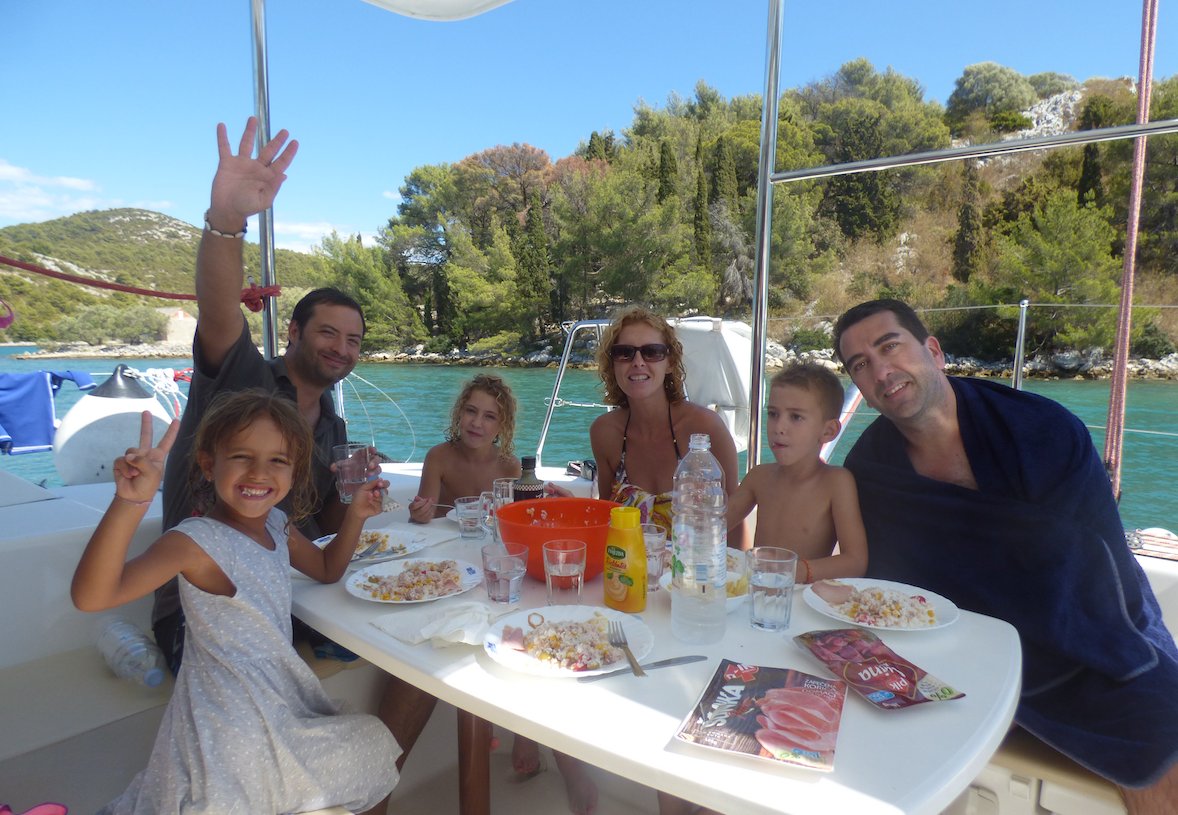 The two men in the group had experience navigating sailboats, but had never before rented a catamaran. We chose to rent a Lagoon 380 S2; a boat with fantastic habitability and the truth is that we hit the nail on the head. Sailing at 20 knots with such security that the kids could walk around the whole boat calmly and play on the net was a dream.
On most occasions, we sailed at over 8 knots and sometimes even reached more than 9 knots. We booked the boat rental in December for 12 August, in order to benefit from the "Early Booking" discount.
Apart from the almost compulsory auxiliaries and accessories, we also got a paddleboard as an "extra". The adults loved and made as much use of the paddleboard as the kids!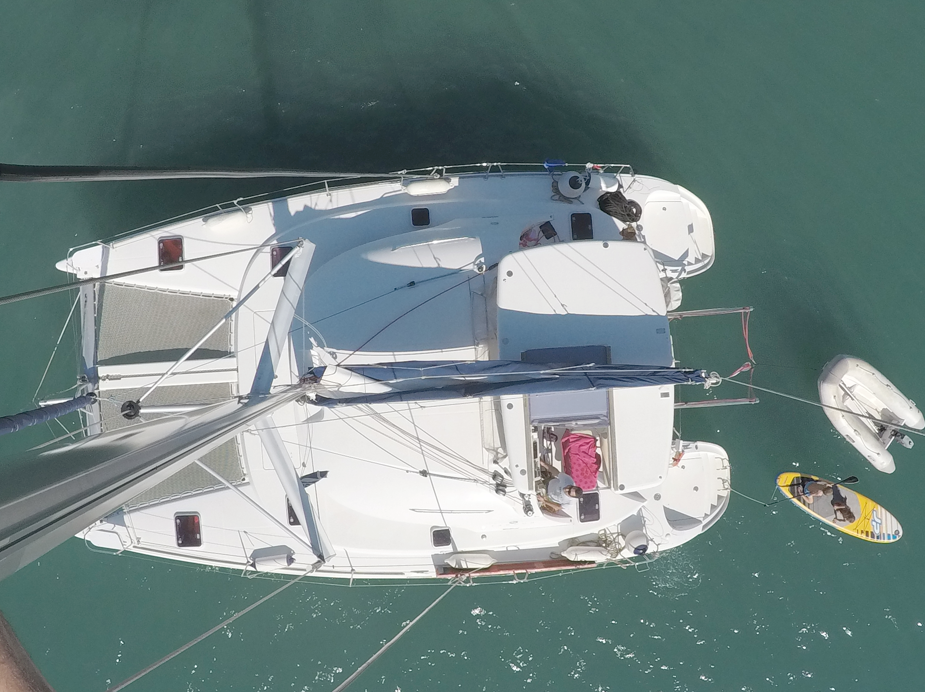 Our Sailing Route
The first thing we thought about was the actual sailing time. We thought about how many hours we would want to sail each day. For us, 4 hours a day divided into two parts (two hours in the morning and two more in the afternoon) seemed ideal.
With a calculation of 5-6 knots of velocity and counting that out of those four hours, moorings and short breaks during navigation would take its peace, the actual sailing time would be around 3 hours a day. We started the charter on Saturday afternoon and had to be back in the base port the following Friday afternoon, as the handover of the vessel is on Saturday morning. This meant that in one week we could sail about 100 nautical miles.
In addition, we prefer to anchor rather than mooring in the ports or marinas, so we only planned only one stop in the marina, halfway through the route. Furthermore, we wanted to do something different so we decided to sail upriver and visit stunning Krka waterfalls.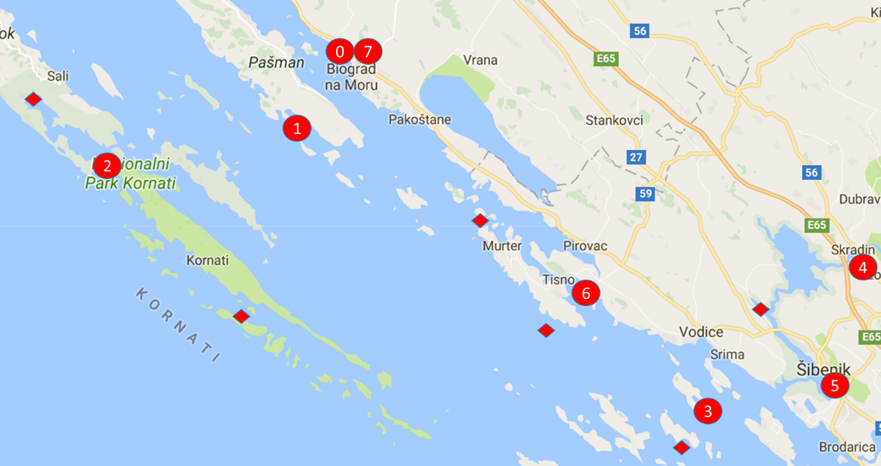 Day 1: Saturday, August 12th
(8 nm)
We left our suitcases on the boat and went to the town for some food. When the boat was ready, we checked in, filled up the water and took off. As it was slowly getting late and we weren't so keen to anchor the first night in the dark, we planned a short trip to our first destination.
We left the harbour and while maneuvering we discovered the beauty of having two motors. During these maneuvers, you completely forget about the rudder as we controlled the boat with the gas levers. Except for moving sideways, you can do what you want with the boat and turning around is a child's game.
After 8 nautical miles, passing from the south of the island Pašman and sailing up towards the south-west part of the island, we passed the tiny islet of Otočić Lanđinić. We decided to anchor here, in Landin bay. A boat owner came and asked us to move back a bit from the buoys, so we did as he said. It was our first day and we already anchored twice. By the second time, it was already night.
Day 2: Sunday, August 13th
(18 nm)
Sunday was the day we explored the Nature Park Telašćica. Our plan was to go deep into the bay of Telašćica past the two islands, Otočić Donji Školj and Otočić Gornji Školj. In order to do this, we had to do about 13 nautical miles and pass a narrow crossing. However, with the shallow draft of the catamaran, we did it easily, without any difficulties.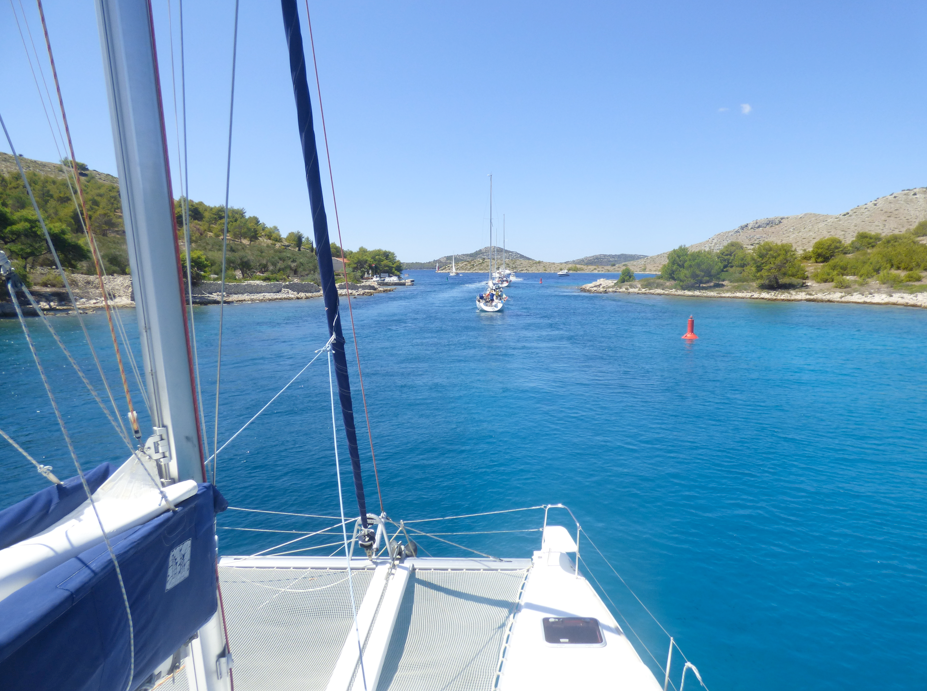 This place is simply beautiful, with its vegetation you certainly feel like you're in paradise. We enjoyed the tranquil atmosphere here, as there were hardly any people around, unlike our previous experience in Balearic islands. In this bay, you can drop anchor literally anywhere you like and without any stress. One thing that we didn't find very appealing was that the sea wasn't as transparent since we anchored between sand and mud.
After a little snack and short siesta, we departed from the bay and dropped anchor just under 5 nautical miles further in Tomasovac on the island Kornat. We found an amazing seafood restaurant called "Konoba Suha Punta". I'm telling you, the seafood here is something else! We absolutely loved Croatian cuisine.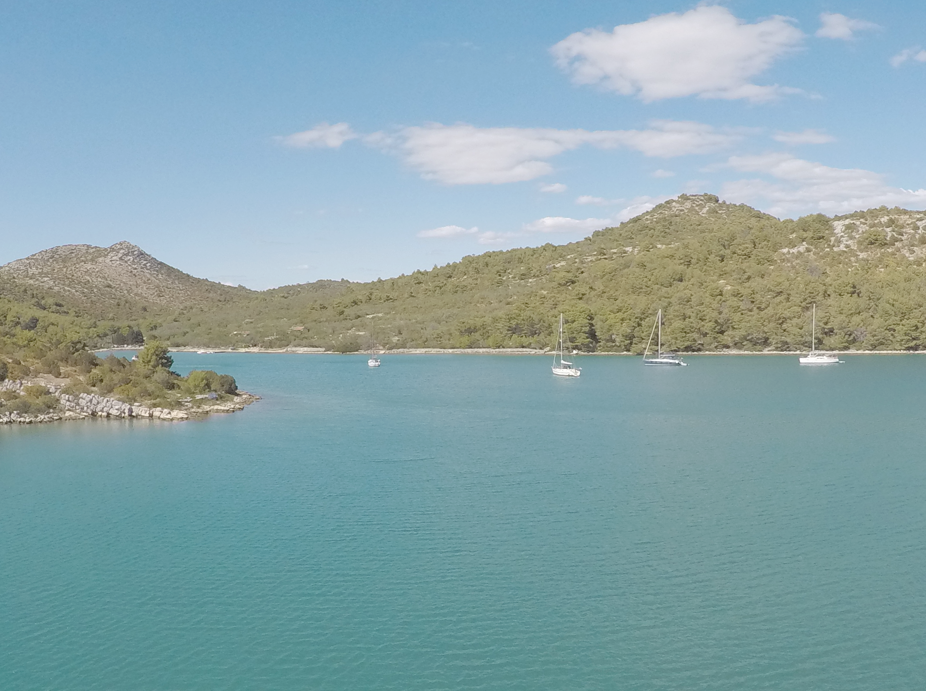 Day 3: Monday, August 14th
(33 nm)
On Monday we continued sailing towards the south-east. Because of the many islands in Kornati archipelago, we were secured on the port (left side of the boat) by Kornat island and on the starboard (right side of the boat) by other smaller islands. This was a huge help and a very convenient way to protect us from the waves and winds. We sailed with the wind at 20 knots on the stern, alternating the navigation with the sailing.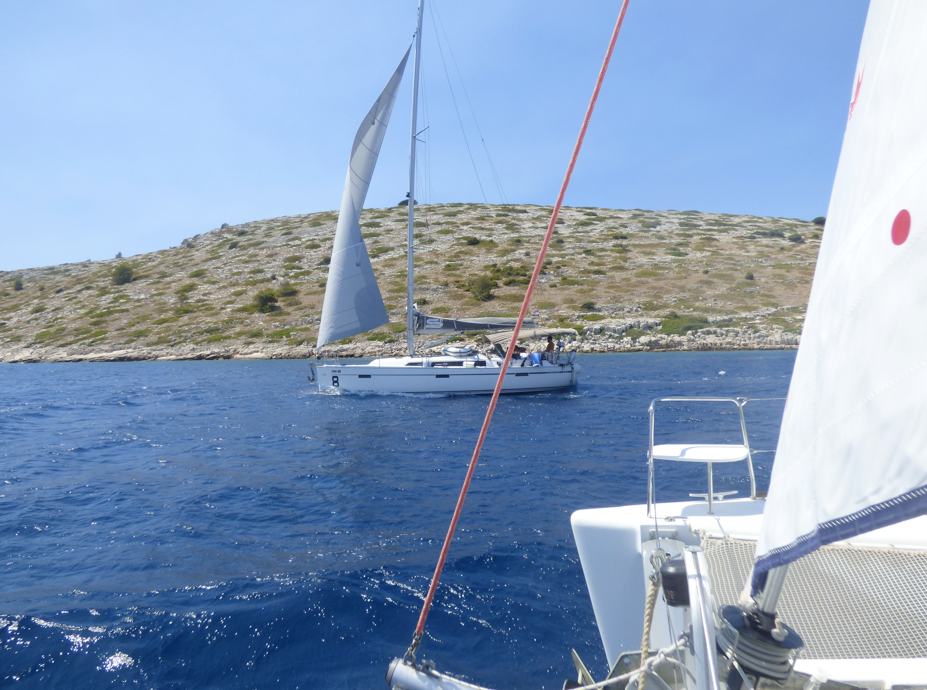 The sailing was simply great! We glided along the water at 7-8 knots and took care to avoid the islands and let boats with the priority of passage to pass as if we were on a regatta.
We anchored in island Lavsa, an uninhabited island that served us as a shelter from the wind. We had our lunch on board and enjoyed the transparent, turquoise sea. 
After our siesta, we set off towards island Tijat. Island Tijat, Prvić, and Zlarin are near the mouth river of Krka. The first thing we saw were many buoys but unfortunately the cove we planned to anchor was full – this was the first and only time we saw a cove so full during our charter. Though, we completely understood why, as the cove was incredibly beautiful. A boat owner then told us that there was no problem with anchoring to ground (see photo below) in order to avoid swinging at anchor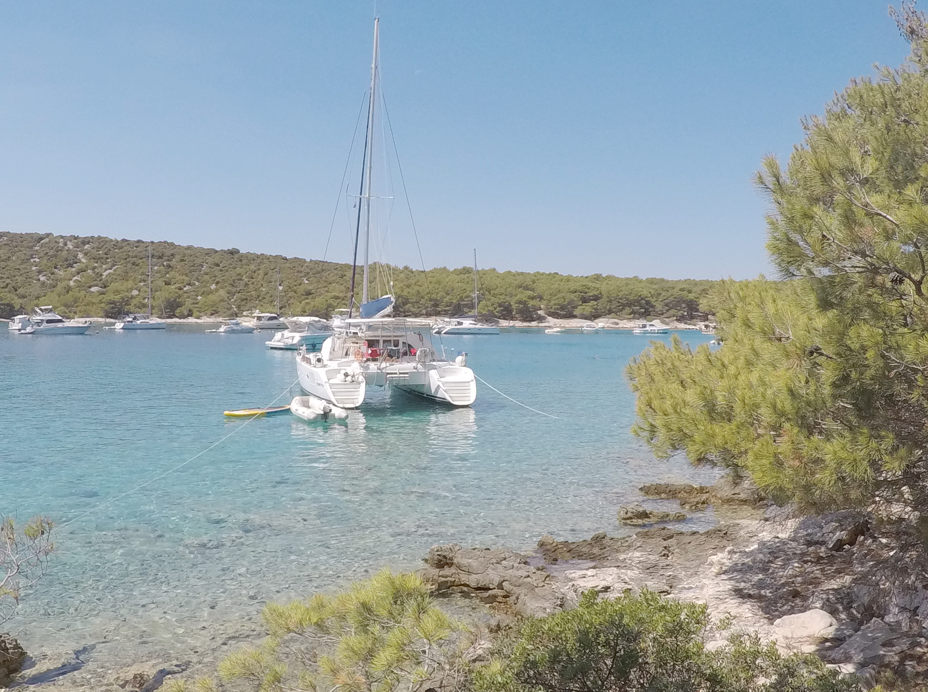 In this cove we found a nice modern bar. At the end of the day we sailed approximately 33 miles, above our daily planned average.
Day 4: Tuesday, August 15th
(15 nm)
After enjoying our morning in this spectacular cove, we sailed to the Krka river mouth and carried on upriver. While sailing we began to notice the large yachts around us, which we hadn't really seen in the previous days.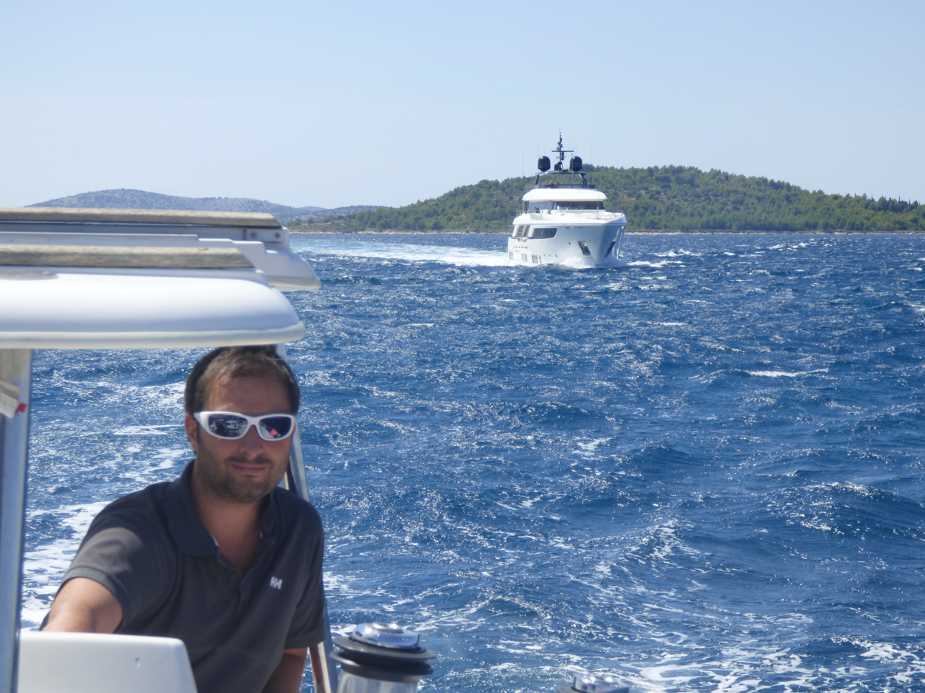 We sailed further upriver, anchored and ate at the seafront of the small town Zaton, a little separated from the mooring zone. Everyone ordered the main course and we decided to skip the starters. Luckily for us, we ended up with a whole kilo of mussels and a couple of oysters per person! We stumbled upon a little shack where a very nice lad with his own fishing boat sold them to us.
We also went under two bridges, which can always be a good laugh.
After lunch, we went to Skradin and moored in ACI Marina Skradin, where we had reserved a berth for a night on the internet. For a 38 foot catamaran, it cost us approximately 150 euros.
We were able to shower in real showers (although without hot water!), dine in a restaurant and rest. Personally, when sleeping at anchor, even though I like it more, I don't rest as much. It's like a part of me always stays alert.
Day 5: Wednesday, August 16th
(10 nm)
On Wednesday, it was time for our feet to touch the firm ground again as we explored the Krka waterfalls. The waterfalls were stunning (almost as beautiful as Plitvice lakes). But I must admit, the number of people we encountered kinda took away the charm of such a beautiful place.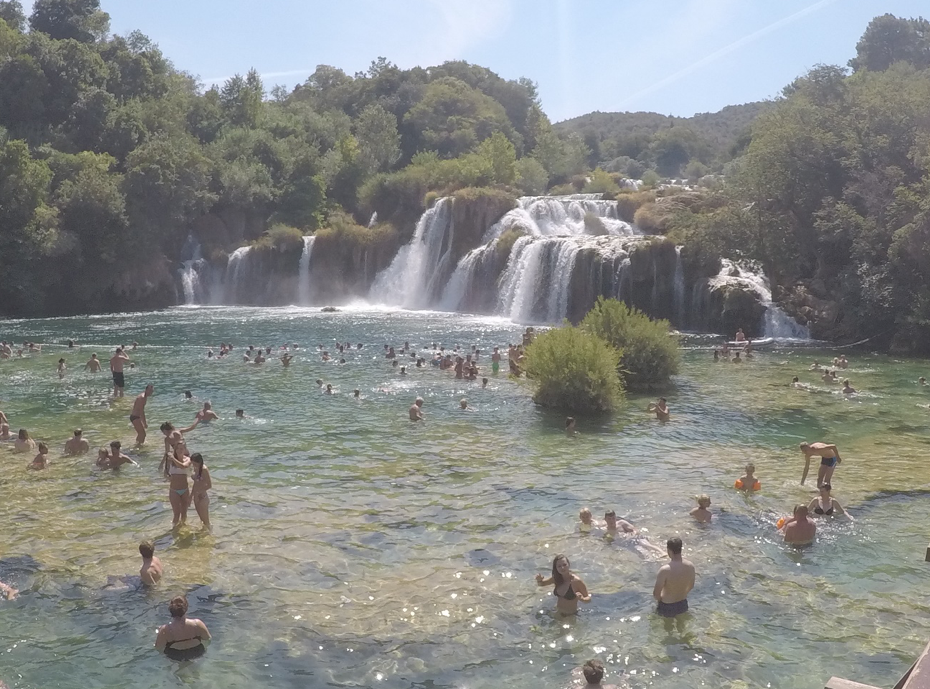 To explore the rest of the nature park, you have four options: on foot (approx. 5 kilometers), by taxi, by boat (the option everyone chooses, but depending on the timetable you must queue to get on board twice), and finally, the option we chose, by bike.
I think going by bike is a great option for adults, but not so much for the kids. The first part of the route is on a road with not many shelters, and the second part takes you a little downhill – which is fun cycling down but not much back uphill. Additionally, our catamaran was scheduled to leave the marina at 2 pm, so in the end, my friend and I had to cycle back quickly to get the boat out of the marina, anchor it, and then meet again with ladies and the kids to grab some food. 
We decided for a pašticada at the La Cantinetta restaurant and absolutely loved it! Pašticada is also known as Dalmatinska pašticada, is a typical dalmatian dish. Basically, it's a stewed beef marinated overnight, roasted and served with homemade gnocchi or pasta. Something so simple, yet so delicious. 
After lunch, we returned to our catamaran and sailed downriver to Šibenik. We moored on the seafront and enjoyed a very pleasant walk and a lovely dinner.
Day 6: Thursday, August 17th
(16 nm)
We decided to explore an island near the estuary because we preferred swimming in the sea than in the river. We anchored in the southern part of the island Zmajan, between a cove and an islet where we enjoyed snorkeling and diving. A large yacht had chosen the same spot as us and had an inflatable amusement park onboard!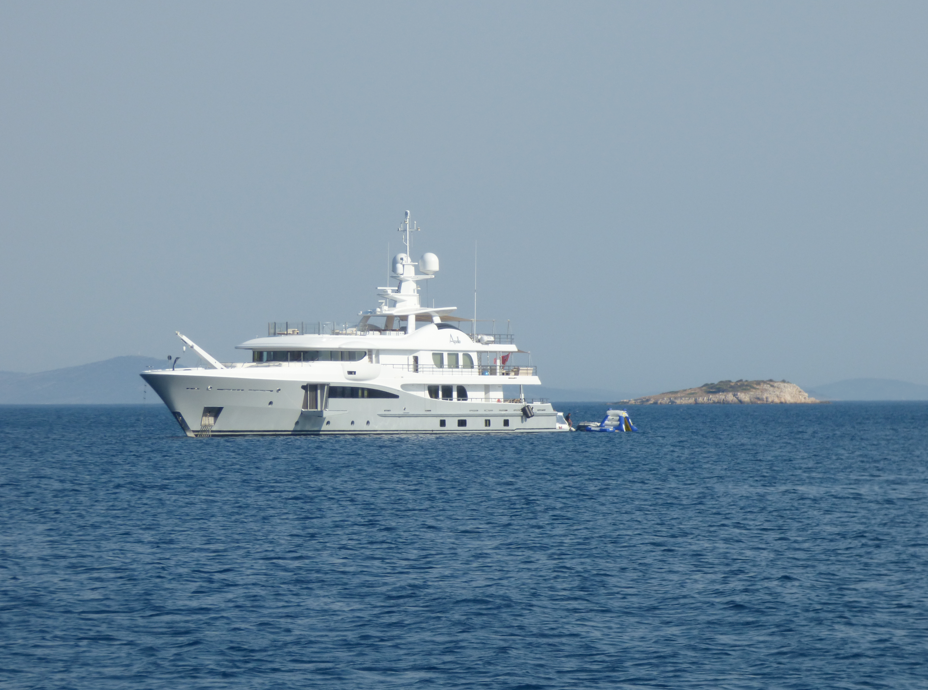 In the afternoon, we headed towards Tisno Bridge as I was excited to pass a drawbridge. Although the crossing is tight-fitting (2 meters according to the Navionics app and our catamaran was 1,5m) so, we decided to anchor nearby and check it out the following morning.
We anchored in Gračina, a very beautiful cove. Surprisingly for us, there was an outdoor disco that wasn't so much fun for us at the end. Still, I would highly recommend the cove but only if you're not sailing with children.
Day 7: Friday, August 18th
(20 nm)
Side note: On Friday we had to return back to the base port for checkout, diver's inspection and general check-up of the boat, even though we didn't have to leave the boat until Saturday morning. This is a standard requirement and nothing that we weren't expecting. 
We got up at 8:30 am to be at the entrance of the bridge by 9 am as the bridge only opens twice a day: the first time at 9 am and the second time at 5 pm.
As we approached the bridge, we noticed how tight the passage actually was and decided not to risk it. We saw some motorboats and classic sailboats passing through, most definitely with a shallow draft and navigating by well-practiced skippers. Two other modern sailboats and ourselves gave it a pass as we turned around.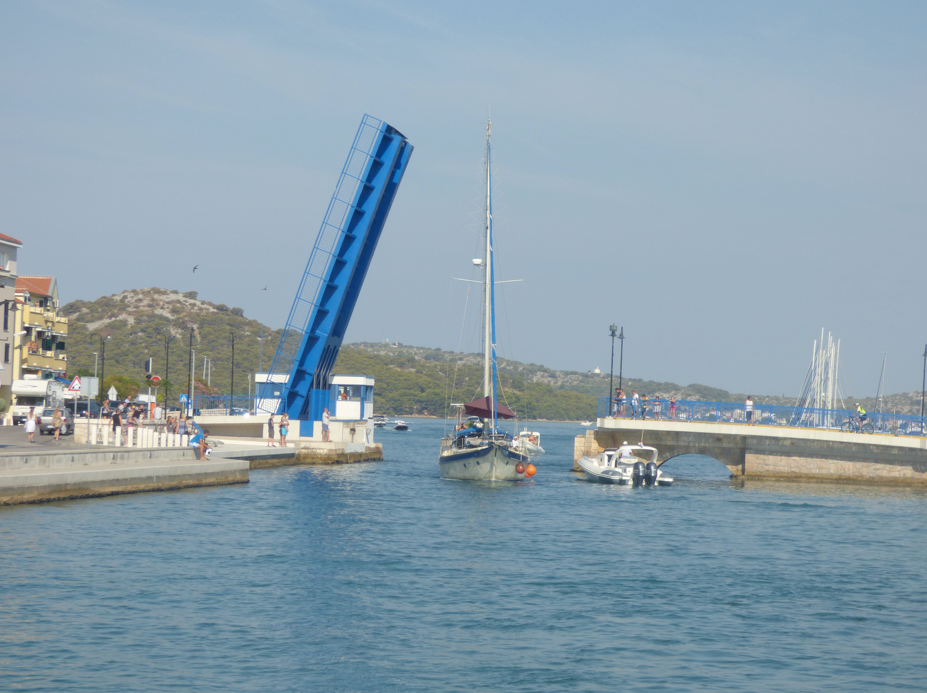 On the journey back to the base (Marina Kornati) we stopped for a while to snorkel on island Kukuljar. This place was without a doubt the best stop on the whole trip because the sea is so transparent and full of little fish.
After passing the island of Murter, we anchored between two little islands that we found on our starboard (remember which side of the boat this is?), between islet Zminjak and island Radelj. We had our last meal and swim of the trip there.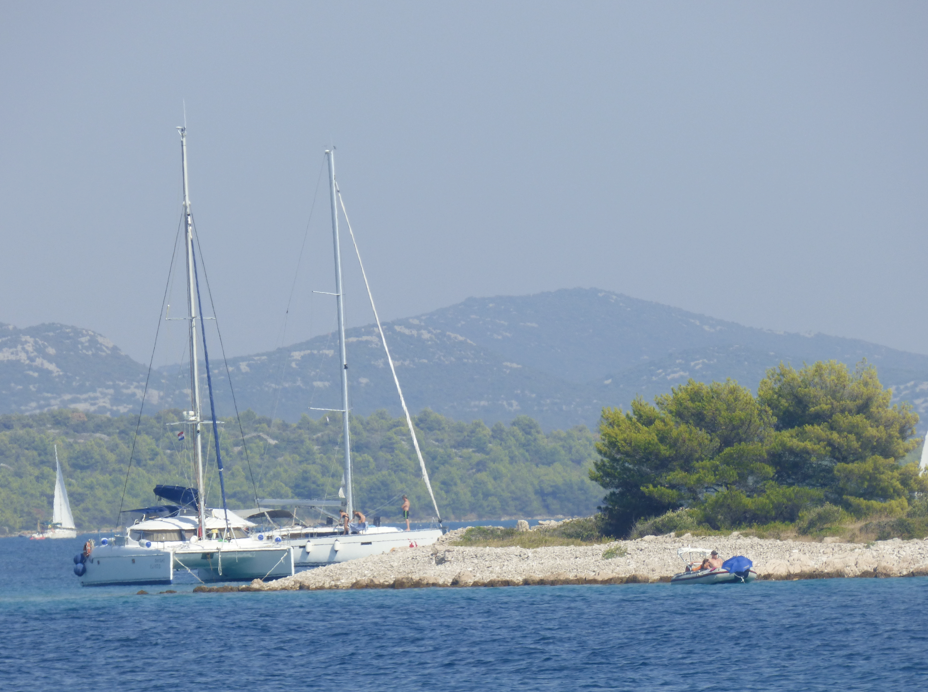 On the way back to the marina, just before entering we stopped to refuel so we could return the catamaran with a full tank.
Check out was smooth and quick. All in all, this route is very recommendable for sailing with family and children.