Turkey is one of the most beautiful places in the Mediterranean to rent a boat. With Nautal, there is a wide range of choices in Turkey, from motorboats and gulets, to catamarans and yachts. With so many amazing places to visit, many of them difficult to access except by boat, it can be difficult to narrow down your selections. In this blog post, we'll tell you the best Turkish beaches to visit during your gulet cruise of Turkey.
Fethiye's Turkish Best Beaches
Oludeniz Beach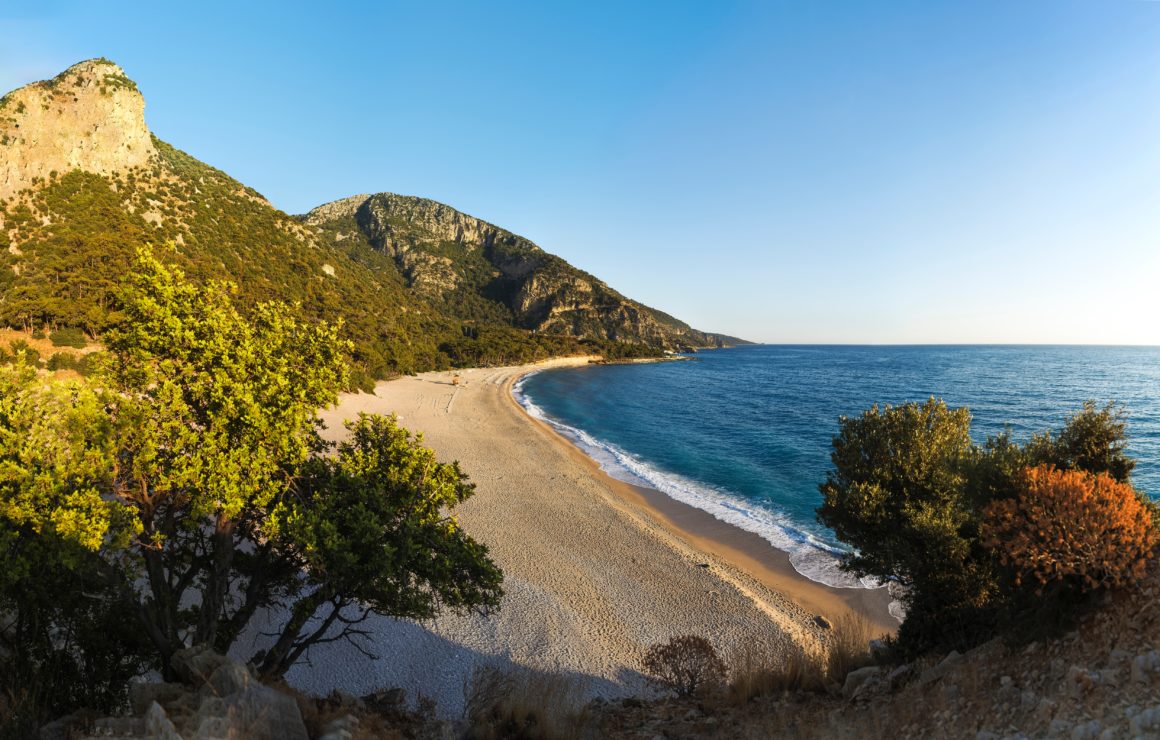 Oludeniz beach is undoubtedly one of the first places you should stop off at for your Turkey vacation. Everyone has heard of the Blue Lagoon in Iceland, but did you know that the Turkey Blue Lagoon is located at Oludeniz Beach? The lagoon's calm waters are actually what gave this beach its name, which literally translates to 'dead sea'.
Although the beautiful lagoon is the obvious reason why this is the most famous beach in Turkey, there are other reasons to visit during your gulet holiday. The nature lovers among you should visit the Babadag mountain, which is just a half hour drive away from the beach and perfect for a trek. If you love history, you can also visit the Kayaköy ruins, as well as those located at Tlos and Xanthos.
Butterfly Beach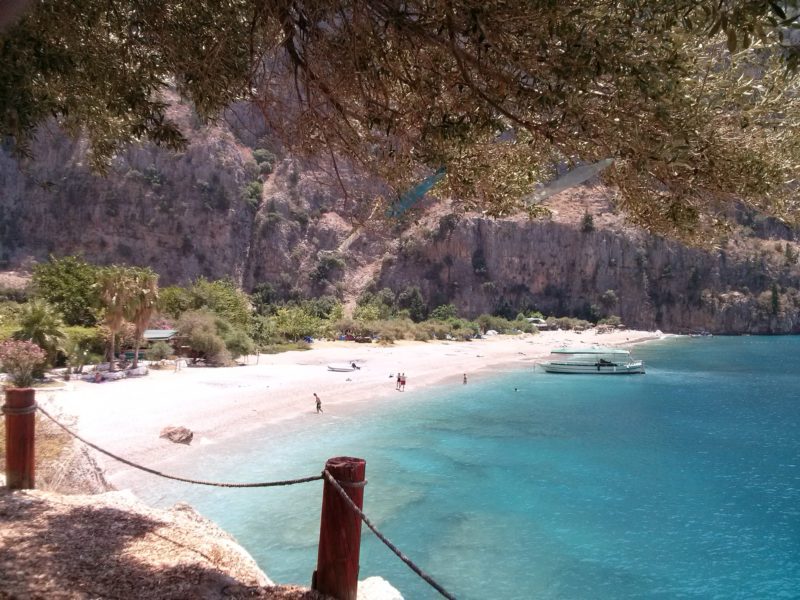 Located in Butterfly Valley between the steep cliffs of the Yedi Burum, this beach is very difficult to reach if you don't come by boat. Although there is a path down the cliff, only experienced hikers usually attempt to navigate the rocky terrain. If you do take the time to make a trip here, though, it is definitely worth the effort. There are many hiking trails in the nearby arena, one of which leads to a small waterfall. You can also see hundreds of species of butterfly. One of these is the Jersey Tiger butterfly which gives the valley, and the beach, its name.
Antalya's Best Turkish Beaches
Lara Beach
It's easy to see why Lara Beach is one of the best Turkish beaches, given its excellent amenities and location. Lara Beach, Turkey's closest beach to Antalya airport, is popular with both families and young people. The amazing nightlife and lively atmosphere attracts young people, while families favour the wide range of activities available. These activities include paragliding, kite surfing and windsurfing.
Cirali and Olympos Beaches
The next entry in the list of Turkey's most beautiful beaches is actually two different beaches which are close togethers. With white sands that stretch out along the sparkling turquoise Mediterranean sea, this natural paradise is mostly unspoiled by development. Like Butterfly Beach, and many others along the Turkish coast, boat trips are one of the only ways to reach these beaches, making a boat rental the perfect choice for visiting Turkey.
Olympos is the perfect place for a digital detox. If this appeals to you, there is wooden treehouse accommodation available for anyone who fancies spending a night onshore. In Olympos, you can also see the eternal flame of Chimera, considered a must-see by most travel guides. Cirali is a little more developed than Olympos but is the perfect getaway for those who practice yoga. Many classes are even taught on the beach.
Patara Beach
Patara Beach is 11 miles (17.7 km) long and is one of the best Turkish beaches to visit for a couple of reasons. Firstly, it is usually free of the crowds that the other entries on this list tend to attract. More interestingly though, this beach is also almost completely undeveloped. This is because it is a key nesting site for the endangered loggerhead turtles.
Even if the thought of swimming with newly-hatched baby turtles doesn't attract you, there are plenty of other things to see. For nature lovers, there are creeks and lagoons, while the ruins of Patara attract those with a passion for history. There is even a small cafe in case you fancy a bite to eat.
Cleopatra Beach
To many, this is one of the best city beaches in Turkey. Its white sands and turquoise waters stretch as far as the eye can see. In fact, it is so beautiful, that people believe Anthony and Cleopatra favoured it back in the day, hence the name. There are also many activities to participate in on this beach, making it perfect for families.
Best Turkish Beaches in Other Locations
Iztuzu Beach
This beach, also known as Turtle Beach, is home to many turtles, much like Patara Beach. This beach is protected due to the turtles who live there, and is closed at night to protect them. Another thing which makes this beach unique is that it also has a freshwater delta. This allows a plethora of species to live here, making it one of the most biologically diverse beaches in Turkey. While you're there, you should check out the conservation centre to learn more about the endangered species that live there.
Ortakent Beach
Ortakent beach, Bodrum, is amazing because of the range of water sports you can practice there. However, it also isn't as crowded as some of the other beaches on this list. It's one of the best Turkish beaches for swimming, and also has many restaurants, beach bars and tea gardens nearby. This is ideal for when you inevitably want to take a break from the sun.
Not Interested in the Best Turkish Beaches?
Things To Do In Istanbul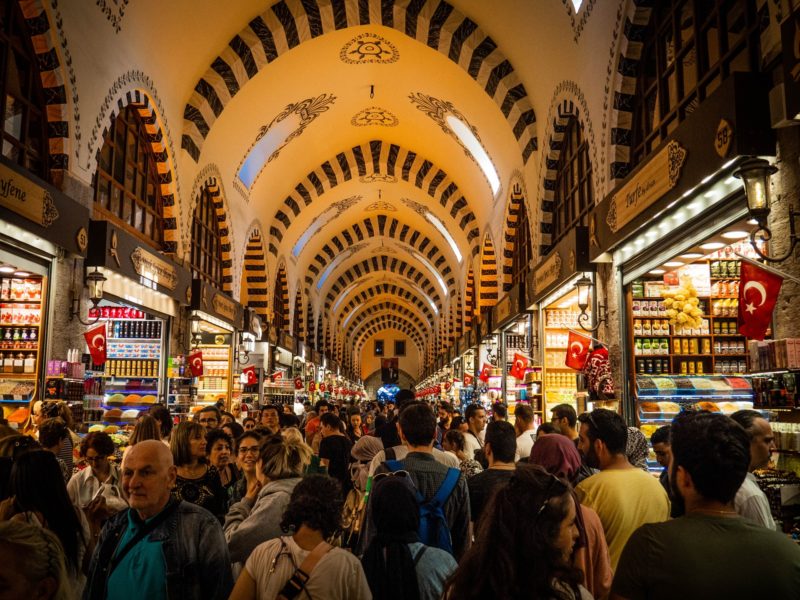 If you're interested in visiting Turkey, but don't want to work on your tan this year, there are other options. If you're going to Istanbul and don't mind a short trip, you can go to the Grand Bazaar. This is the perfect place to buy souvenirs for your friends and family. While you're there, you can even treat yourself to something to remember your trip by.
Longer Boat Trips
If you rent a boat in Bodrum, there are many different possibilities. Being the closest point to many of the Greek Islands, this is the perfect base for you if you want to explore a little more of the Mediterranean. Depending on which boat your charter and its engine power, sailing to Kos could take as little as half an hour, making it an ideal trip for your Turkish boating vacation. From Kos, you can also visit many of the other, smaller islands.
Take Part In Sailboat Races
Another option, depending on the time of year of your holiday, is to enter one of the sailboat races that frequently take place off the coast of Turkey. Two events which are coming up very shortly are the Marmaris International Race Week (MIRW) and the Göcek Autumn Race Week (GARW), both of which occur at the end of October. MIRW takes place from the 23rd to the 29th of October this year and anyone who wants to participate still has time to enter, the entry deadline being the 10th of October.
GARW, on the other hand, takes place from the 30th of October until the 6th of November this year. This event is perfect for sailors of all levels, and at the moment, 69 crews have registered. You should sign up straight away on the website if you want to join them and take part in an event that promises to be spectacular.
If you found the information in this blog interesting, we hope you'll check out one of our top picks for the best Turkish beaches aboard your very own gulet (or any other type of boat) rental soon. If you have any questions, feel free to contact us and in the meantime, check out the following blog to discover some of the best places to visit by gulet in Turkey.