Sydney is the most populated city in Oceania and the capital of New South Wales. It has constantly been ranked amongst one of the top 15 cities in the world in terms of tourist attraction and it ranks number one for international students.
World renowned for its natural deepwater channels, the Opera House and Harbour beach, Sydney has one of the most beautiful harbours. The harbour is a leading destination for cruise shipping and the only port in Australia with two dedicated cruise facilities, the Overseas Passenger Terminal at Circular Quay and White Bay Cruise Terminal just west of The Bridge at Balmain.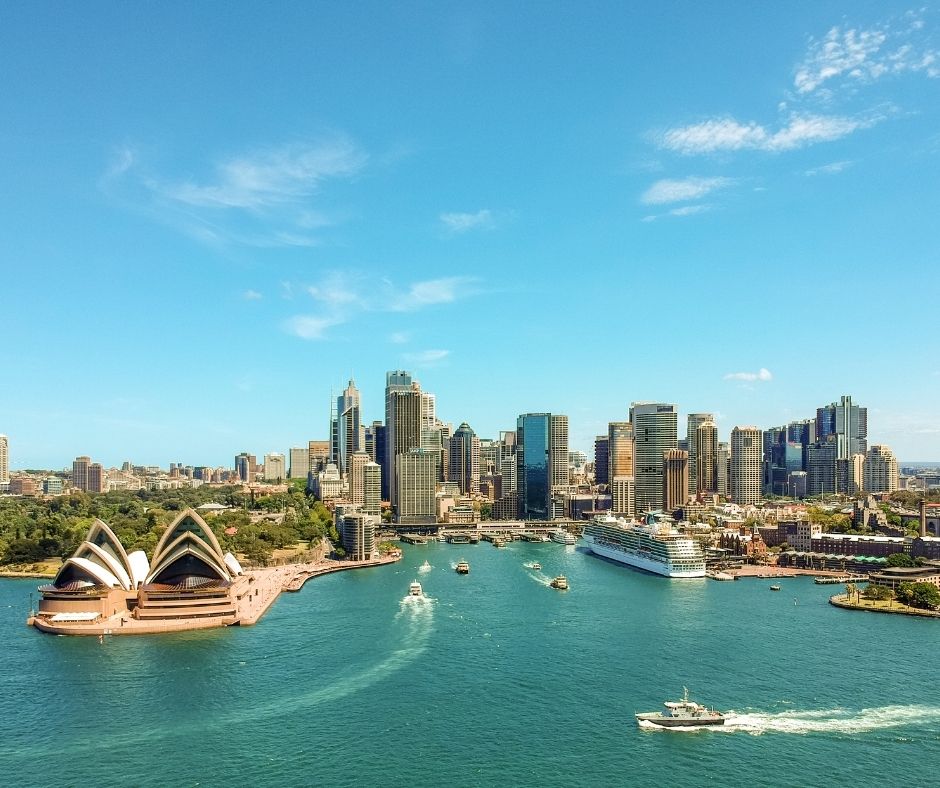 There are many activities around Sydney harbour, and we would like to share with you some of our favorites:
National Park
From 1806 to the 1960s, Middle Head was an integral part of Sydney's defence. Visit the tunnels and gun emplacements which overlook the harbour. In addition to its varied European cultural heritage, the park also protects a range of Aboriginal sites. These include rock engravings, axe grinding grooves and shell midden sites.
Fort Denison 
When the First Fleet arrived in 1788, Fort Denison was a steep, rocky island known to the Aboriginal people as Mat-te-wan-ye and was a popular fishing place for local tribes. The name "Pinchgut" arose soon after, as convicts who had committed secondary crimes were charged and confined in leg irons on the island, with rations of bread and water.  The island has been managed by various organisations over time, including the Naval Brigade in 1869, and the Sydney Harbour Trust in 1900. Fort Denison became part of Sydney Harbour National Park in 1992, managed by the New South Wales National Parks & Wildlife Service.

Cockatoo Island
A night camping in Cockatoo is one of the best experiences one can have in Sydney. It is Sydney Harbour's largest island and one of Australia's most fascinating historical sites. We recommend you that the day after you go camping,you can take an audio tour that will explain all the historic landmarks Australia has.
Sydney has very interesting anchorage places and marinas for you to spend the day. Either Farm Cove (next to the botanical garden, and almost alone every time). Blackwattle Bay (perfect location and very well protected) or Quaratine Bay.
When searching for a Marina, its impressive the number of Marinas this amazing city has, just to mention some. yo can go to ; Berrys marina, Cammeray marina, Davis marina, and Eizabeth Bay marina, to name a few.
Sydney is a city with very nice weather. summer highs are on average from 28-30 C, and in winter it has on average 17- 21 C. Late autumn and winter brings very strong rainfalls, and its a city prone to heat waves and droughts, mostly in recent years. November is the windiest month, whilst March is the calmest.
Sydney Kingsford Smith Airport is located within the suburbs of Mascot in Sydney, New South Wales, Australia. It is the only major airport handling the Sydney area with over 36 million passengers.
You can go to and from the airport by cab, buss, shuttle or private transportation.
Sydney is a city that makes people fall in love. No matter if you are an opera lover, a sports addict, or a night champion; this city has always something new and exciting for you to explore.
By sailing near Sydney, you can spend half a day, a day or more enjoying the views, and the amazing food located nearby!