Tips & Tricks when you set sail with a child
I was on the terrace with my child when I turned around to see the drawing of what resembled our sailing boat. I thought to myself, am I influencing my daughter? The answer is yes, and it made me think that a blog post about sailing with a child on board might be useful, so I will share my experience with you.
My daughter is 2 years old, and ever since she was born she has sailed in our sailboat. When she was 2 months old, we sailed for the first time with her. For this trip I chose to take her in this backpack, I felt more secure, and I had control over what was going on at all times.
And when we slept, she slept with me, and always moored on the port.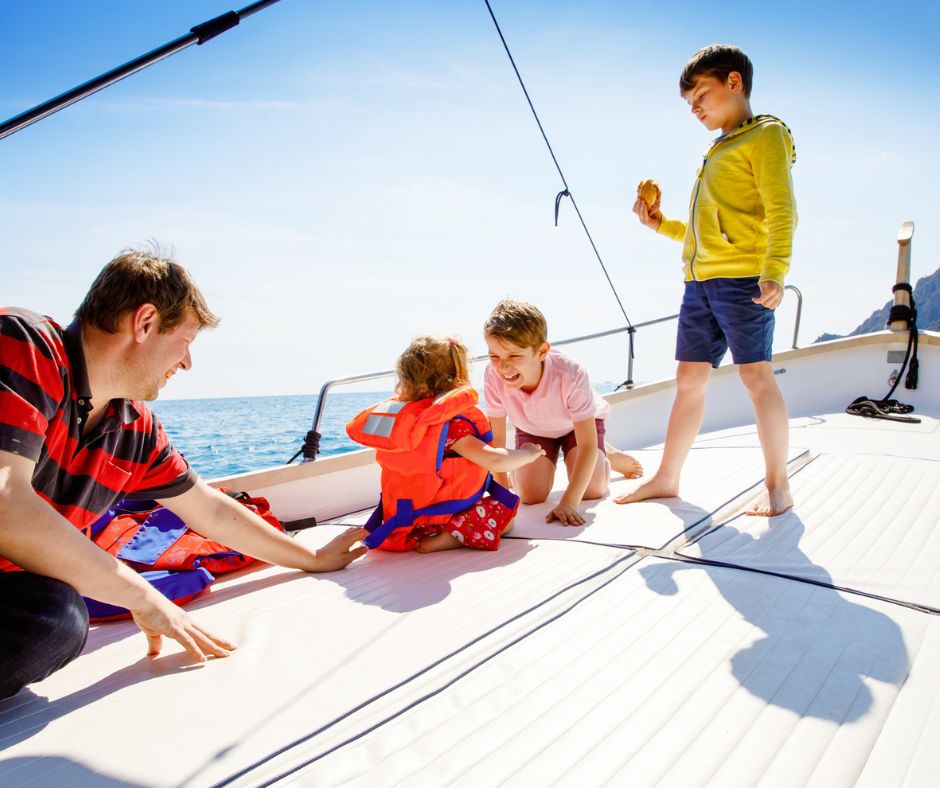 When she was 9 months old, we went to Costa Brava for a week. The plan was to stay close to a port in Costa Brava, and then spend half a day in a cove nearby. We chose Port d'Aro, because it allows us to spend the hottest hours in the shadow near the trees and swimming in the pool.
Going out sailing, it was important that my wife was with our child 100% of the time, whilst I sailed the boat. We anchored, we played in the bathtub and little by little, we got into the sea. When sailing, and also whilst anchored, we always had the bimini on, so that she was protected from the sun.
Our trip from Barcelona to Menorca
When my daughter turned 1 year and 9 months, we felt she was much older, so we went to Menorca. I sailed the boat from Barcelona to Menorca just out of precaution, and they flew directly to Menorca.
When the night arrived, and it was time to go to bed, we placed a net around her so that she wouldn't fall. As children move a lot at night, this way safe as she was protected from any internal, and external movement.
After one or two days sailing, my daughter was more used to the boat. She was aware that she had to be with an adult all the time, and she understood the rule that you can stand up in the bathtub, but in the benches of the bathtub you are only allowed to sit down.
Whilst sailing, (again, with the bimini on, so we only sailed with the motor on) the priority was controlling her, and then entertaining her. The iPad is always a safe bet. We showed some cartoons, or toys that helped her enjoy sailing but still being entertained with her own things.
Life on board is very pleasant, and it helps you connect in a very special way…. It might be due to the fact that we feel so relaxed, and the time that we devote to ourselves… and of course, the boat also helps!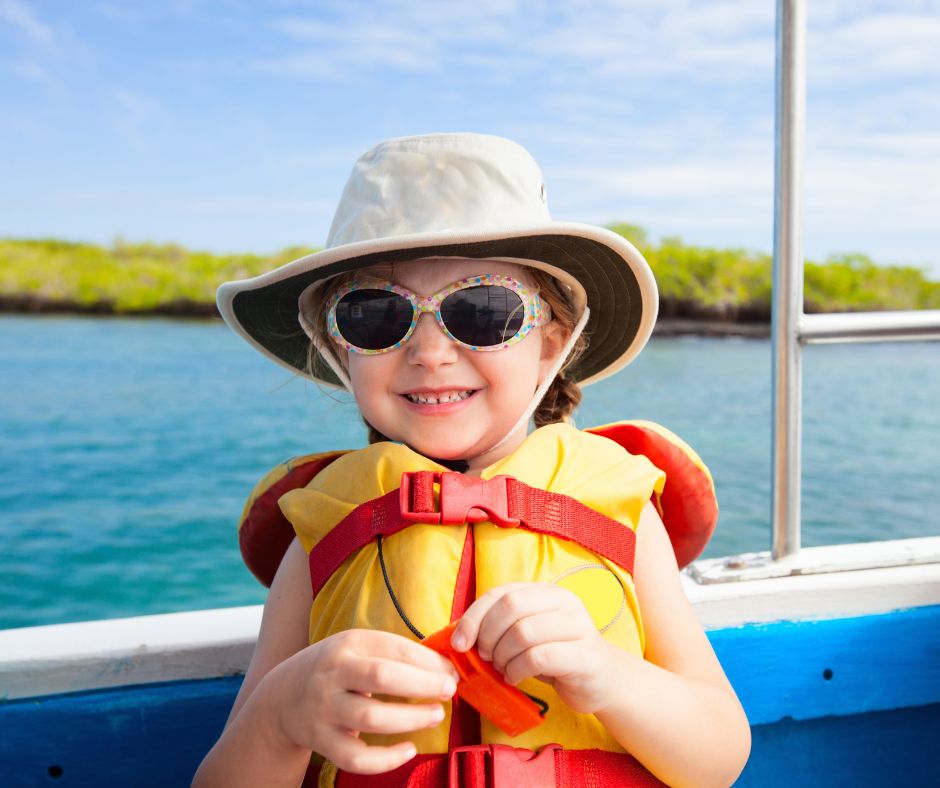 Practice makes perfect!
This year, in all of our anchorages, we went inland for a while. This gave my daughter some time to run and play on the beach. Although she likes the time on the boat, one can tell that she really needed to spend some time on land.
This post is also meant for parents that have some concern about sailing. My advice is, jump and go out there! Always use the necessary cautions, and you'll enjoy an adventure of a lifetime!
To sum up, below is some advice.
Advice Whilst Sailing With Your Child
Be mindful of the weather at all times, especially before you set sail. Don't take silly risks.
Control your child at every single moment, avoiding any single opportunity for the child to fall into the water
Always wear the vest
Another risky place is stairs and pointy spots. So keep your child safe at all times.
One person should be fully devoted to the child. If you sail with confidence by yourself, you can do the trip with the two adults, but in case you need help, it's better to bring more people on board.
Use sunscreen, wear a cap, and use the bimini at all times.
Use the nets for the bed, it keeps your Child safe.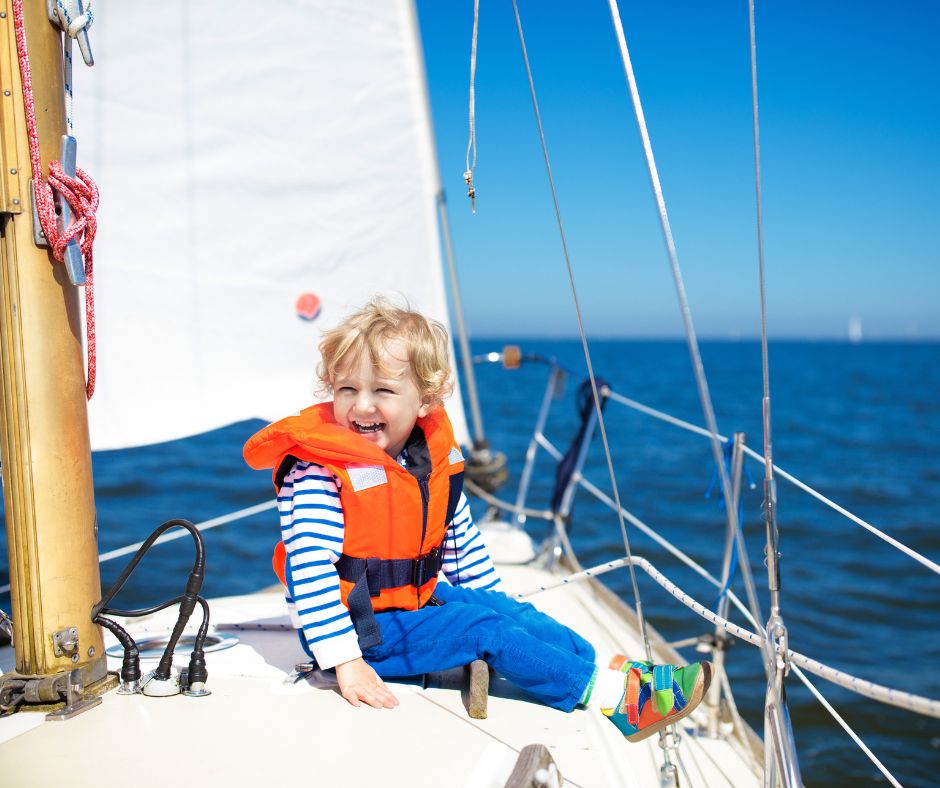 And to answer the first question, whether we influenced her boat drawing, we undoubtedly did. But as for experiences like this and spending quality time with her, I believe this is a positive influence.
Let us know whether you've ever taken your child sailing with you, and what was your experience like?