Ibiza is one of the most popular Balearic Islands and is well-known for its international clubbing scene, visited by thousands every year. In addition to the two mile fiesta which stretches across the golden sand of Platja d'en Bossa, cruising the coast on one of our numerous party boats rounds off your holiday perfectly. Just imagine dancing on deck with a drink in your hand as you sail Ibiza's coast with your friends, does life get much sweeter? At Nautal, we have a multitude of boats available, so we have carefully selected a small selection in order to help you find the right boat for your party.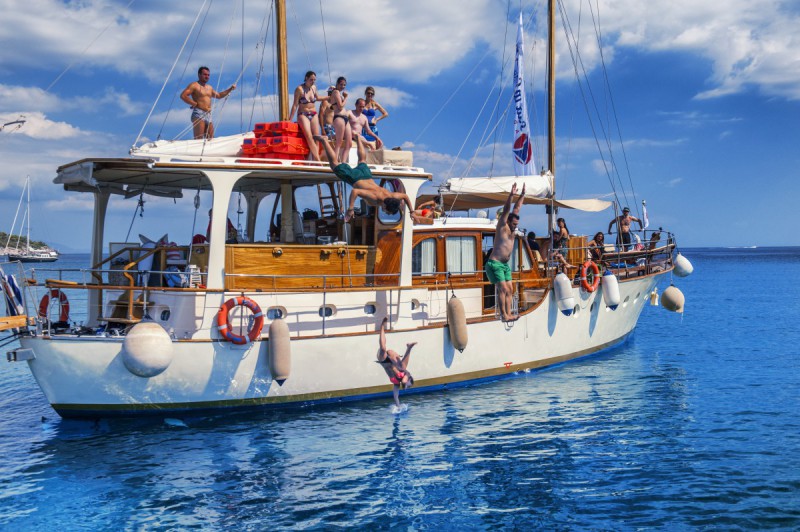 Motorboat
Rent a motorboat with your friends in Ibiza and set off from Port d'Eivissa or Port de Sant Antoni on an unforgettable excursion. Equipped with a powerful motor, this boat is ideal for an expeditious tour around the mediterranean. Due to its lower depth, you can reach coastal areas and shores much more easily and is perfect for exploring hidden coves, where you can also delve into the underwater world and go snorkelling.
While aboard the Sunseeker Apache 45, feel the wind in your hair as you sip a glass of ice-cold champagne in the sun. This motorboat has an iPod dock, as well as CD-Player, MP3 dock and outdoor speakers, enabling you to chill to your spotify playlist on the boat deck.
Offering space for up to 13 people with luxurious facilities, you have everything you need on this motorboat for your exclusive boat party in Ibiza. Oh, and one last thing, did we mention that the price includes a skipper who knows all of the best routes and sailing destinations on the island?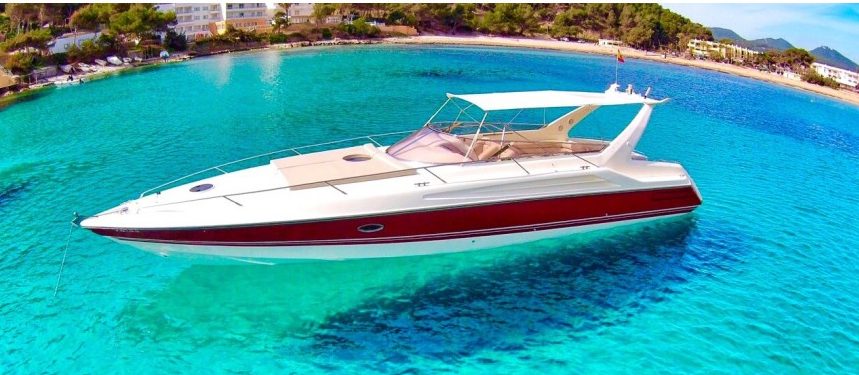 Catamaran
In Ibiza, catamarans are amazing for boat parties, as they are not only spacious under the deck, but also boast plenty of room in the sun onboard. The net between the hulls at the bow of the Belize 43 is a great space for sunbathing and chilling. This 13.5m long catamaran can accommodate for up to 12 people. Equipped with an MP3 and CD player with outdoor speakers, the Belize 43 has everything you need for your party jams.
For those of you who get seasick, have no fear, as catamarans are one of the calmest boats at sea, perfect for those who like to dance onboard! This is due to the fact that catamarans are multihull boats and therefore sturdier and safer, making catamarans an excellent alternative to monohull boats. Most catamarans have a lower depth and can easily coast in shallow waters, making them ideal for detouring to a secluded shore or a beautiful bay in Ibiza. Enjoy all of these benefits onboard this splendid catamaran to party the day away in Ibiza.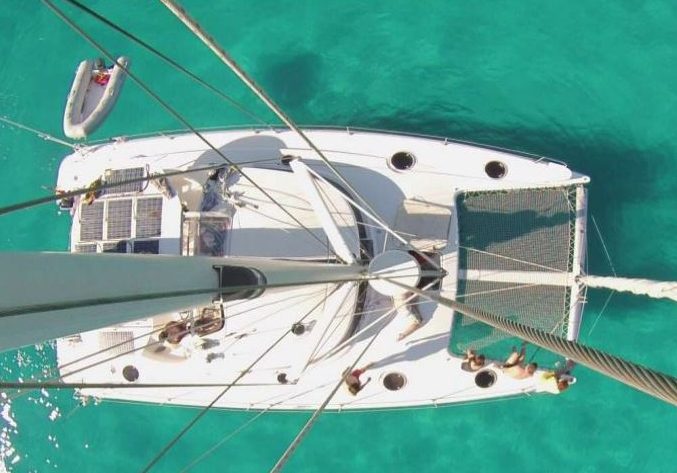 Sailing Boat
How would you fancy sailing into the sunset on a boat with your friends? Renting a sailing boat in Ibiza is the funnest way to have the ultimate nautical experience – feel like a real sailor at sea, all the while partying with your friends as the sun sets. This 14m long sailing boat is great for adventurous groups of up to 11 people. An experienced skipper sails with you from Portinatx, a beautiful holiday resort in the north of Ibiza, out on the open sea, letting you relax and enjoy the journey.
While you enjoy chilled beverages from the boat's fridge on the spacious sun deck at the bow of the boat, the Amica 44 sails along the most scenic coastal sections of Ibiza. For those who want to cool off in the crystal clear water, the sailing boat carries some extras, such as a kayak and snorkelling gear. Enjoy your music using the MP3 and CD Player and outdoor speakers onboard.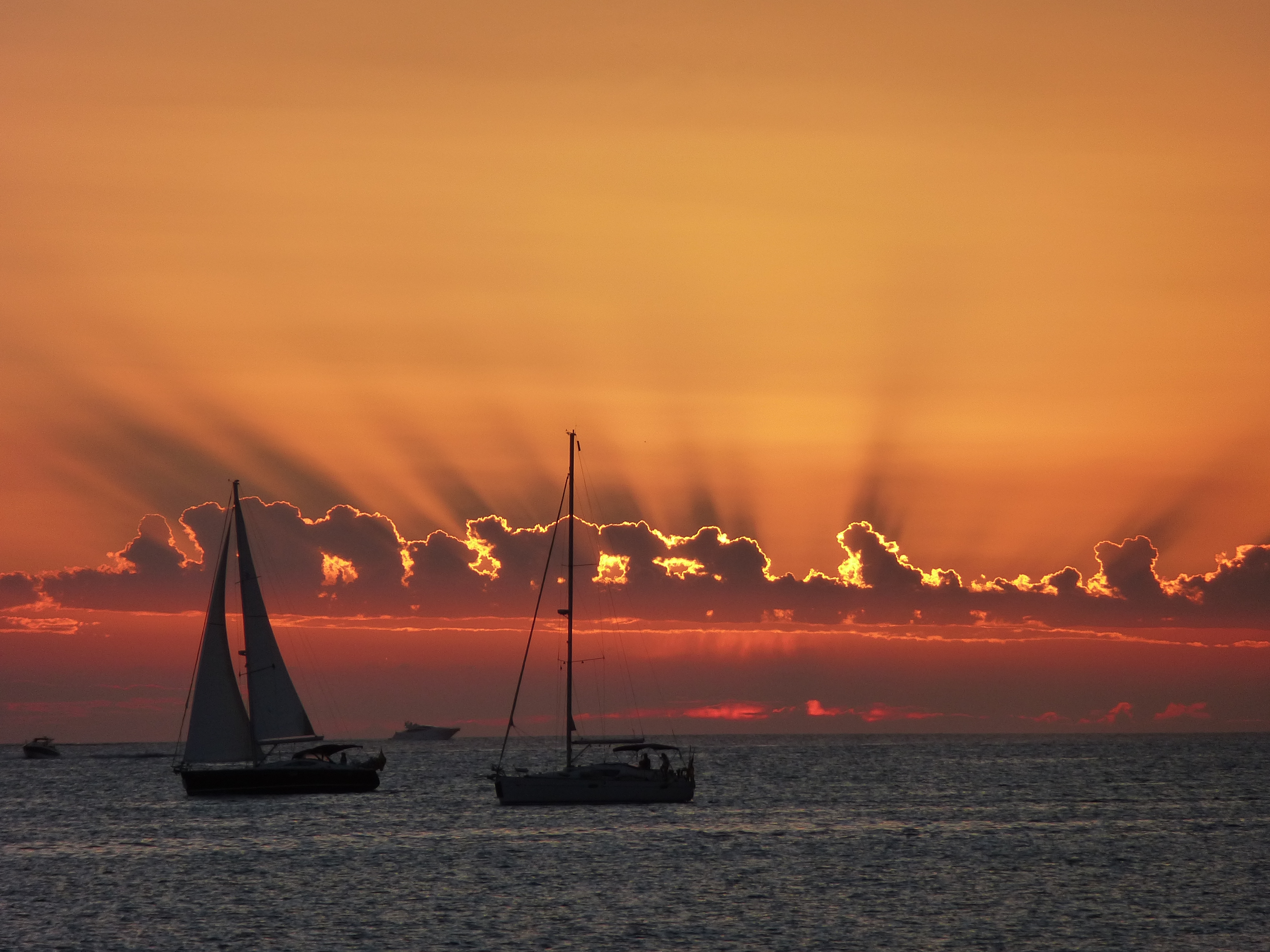 Once you have chosen when you would like to embark on your own private ultimate boat party, contact Nautal and we will find you the perfect vessel for a memorable sailing experience for you and your friends.