5 days luxury on the water from Athens to Hydra and Spetses
Hydra and Spetses Islands have it all! Swim in beautiful beaches, stroll through picturesque towns and sample the mouthwatering local cuisine.
Trip check-ins are on Saturdays, at 5:00 p.m. and you'll be checking out from your yacht in Spetses on Thursday, at 5:00 p.m.
One way trip
Ideal trip to combine with another holiday stay
Flexibility to customise your itinerary to your own preferences
Visit some of the best-known islands
Ideal choice for families
Get inside tips from a local
What you need to know
Capacity: Up to 6 people
Yacht type: Sailing yacht
Departs from: Athens
Duration: 6 days, accommodation for 5 nights
Nearest airport: ATH – Athens, El Venizelos – Greece
Route details
ON THE WAY TO HYDRA ISLAND
Setting off from Athens, you'll sail south to Aegina and spend the night at the port of Agia Marina. Because of its close proximity to Athens, Agia Marina gets crowded, especially at the end of the week. If you can't find a place to moor, your captain might suggest you spend the night at Agistri or Perdika, where you'll swim at their great beaches. Should morning find you at Aegina's Agia Marina, go for a stroll of discovery around town or visit the well-preserved Aphaea Temple which, along with the Parthenon and the Temple of Poseidon at Sounio, forms the perfect Holy Triangle of Antiquity.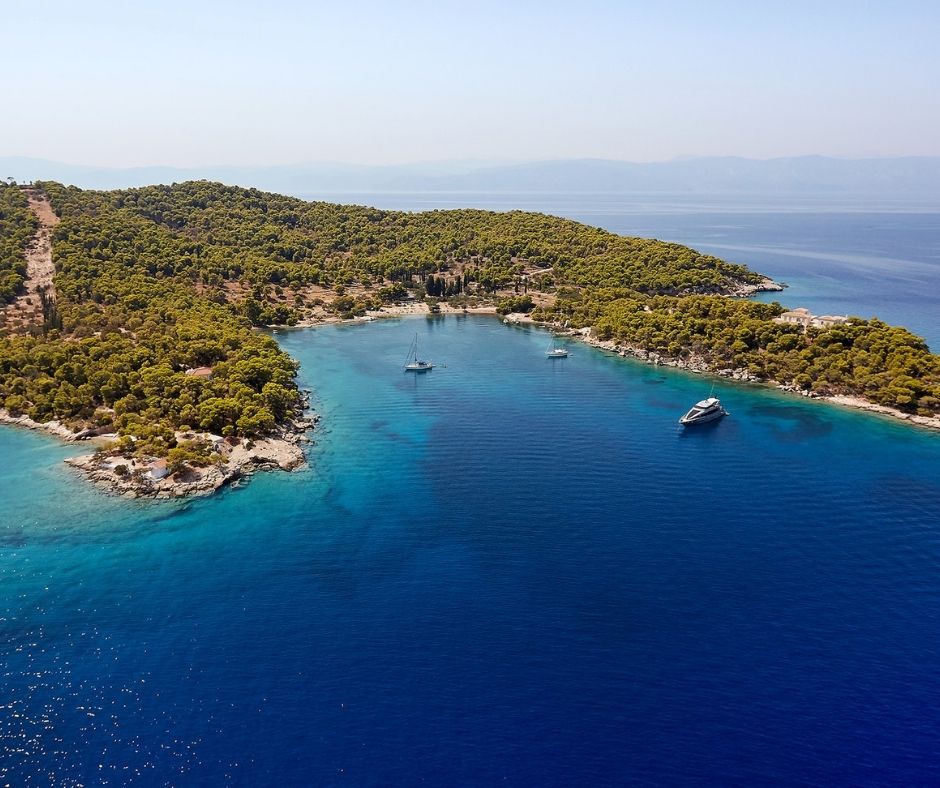 HYDRA ISLAND
From there, you'll head straight to Hydra, reaching the port after about five hours. The 1800s found Hydra a prosperous island, as a result of its successful involvement in shipping and trade during the Napoleonic wars. By the 1900s though, the island's bustling merchant economy was in the past, replaced by a smaller fishing and sea-sponge industry. The 1950s gave a new breath of life to the island, as it became a favourite with artists and intellectuals from Greece and abroad. Its artistic character is still prevalent today – a branch of Greece's School of Fine Arts is based on the island, while Hydra hosts a number of art and culture events throughout the year.
THINGS TO DO IN HYDRA
There are no cars on Hydra, so all transportation is done by foot, bicycle or donkey. The beautiful crescent-shaped port is well worth exploring, as are the island's museums (Byzantine, Historical, National Archive, Modern History). The port's old mansions, canons, and statues of Greek independence war heroes are a testament to the island's industrious past. At the port, you'll also find a number of dining and entertainment options – try the two tavernas in Kamini harbour nearby. For something further out from the main port, take a five-minute water taxi ride to Vlychos, a popular beach perfect for sunsets and dining. Vlychos is a picturesque and popular pebble beach, ideal for sunsets and dining at the local restaurant (Marina's). Hydra is a lively island, and a number of festivals and events take place there throughout the summer. You can always go for a swim, although Hydra is loved more for its romantic cobbled streets than its beaches.
HYDRA BEACHES
Walk about 15 minutes to Castello (Kamini) bay for a swim at this small pebble beach. Keep in mind though, that it'll be packed during the high season. Saint Nicholas is the island's best beach – it's organized, with a Tiki bar that will play 50's american nostalgia and offer drinks and simple snacks. At Bisti beach, a canopy of trees extends down to the shoreline. Both beaches are family-friendly and serviced by water taxies, in case you want to leave your yacht moored at the port. Vlychos is a great but tiny beach that's about an hour's walk from the port, along a beautiful sea-side route. As it's close to the port, Vlychos gets very busy, very quickly.
SPETSES ISLAND
Depart from Hydra in the morning to arrive early at the island of Spetses. Spetses is a much-loved destination for Greece's elite, as well as for the yachting jet set. Spetses' port city is characterized by an absence of private automobiles, while horse and carriage transportation adds a nostalgic flair to the seaside promenade. Your captain will most likely moor the yacht in the old port area so disembark and walk along the quiet promenade to admire Spetses' turn of the century architecture.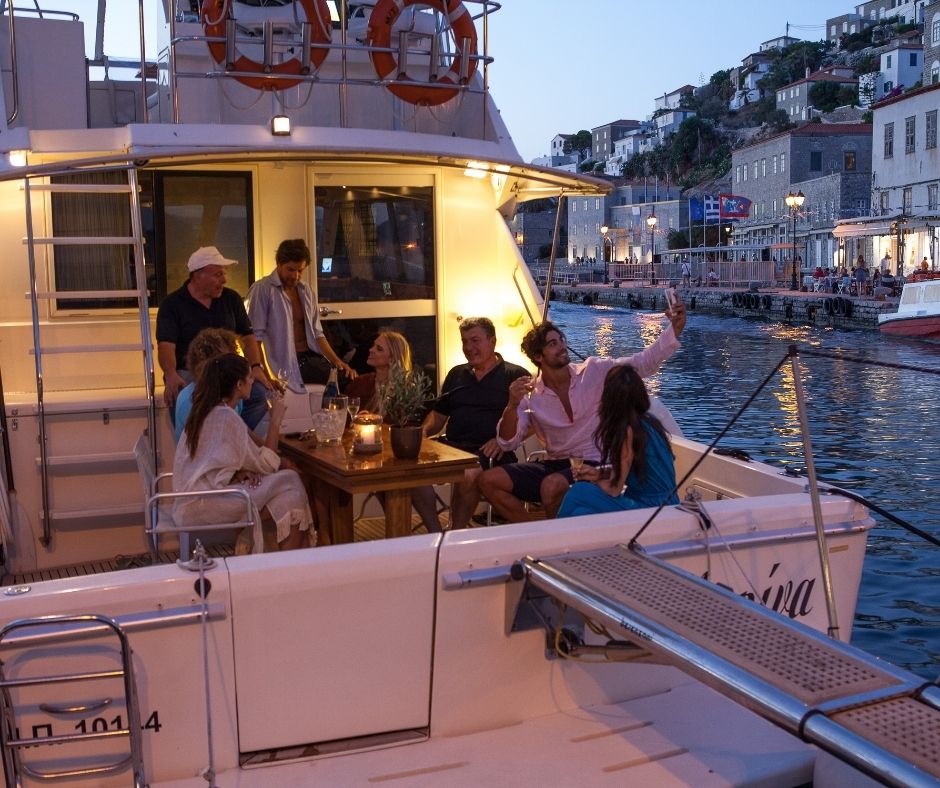 THINGS TO DO IN SPETSES
You can learn more about the history of Spetses in the Museum of Spetses, housed in a wealthy shipowner's mansion built in 1795. At the Bouboulina Museum, you can also get to know about Greece's female admiral Laskarina Bouboulina, and her role in Greek independence. Spetses has many dining options ranging from local Greek taverns to upmarket restaurants. You can also see a movie at one of the island's two summer cinemas, Titania or Marina.
SPETSES BEACHES
Kaiki Beach is a great seaside location to spend the day, or night. A relaxed and organized beach close to town, Kaiki features a great bar-restaurant as well as sunbeds that can easily accommodate a whole family. Spetses also has a party beach, Vrelos – and it will occasionally fill up with party animals dancing to Greek DJ's or local bands. Zogeria beach is located on the Northern side of the island, and only reachable by boat. A tranquil and unorganized beach surrounded by thick pine forest, it's perfect for picnics!