Explore Šibenik archipelago with this one week boat itinerary
One Week Boat Tour Šibenik – Day 1: Set sail from Marina Frapa, Rogoznica – Island Kaprije (17 nm)
Start your charter from Marina Frapa, Rogoznica, a popular seaside destination along the Adriatic Coast, 30 kilometers south-east of Šibenik. Split Airport is the closest airport to Rogoznica (33 km distance), a half hour drive away. Marina Frapa has advantageous shelter from the mainland curving round to the west and is one of Croatia's marina gems. Rogoznica is a sweet coastal town where you can get everything you need before setting sail, including some sun! There are some lovely beach spots here – to keep you busy until you start your sailing adventure!
Island Kaprije, your sailing destination for day one, is an unblemished and beautiful island situated 16 km from Šibenik. You can moor in a cove that suits you, or visit the village of Kaprije. There isn't a lot going on here, but that is precisely why we love this island so much. Moor in a cove, have a snorkel or swim in the clear cerulean sea and enjoy dinner onboard with your loved ones, all the while appreciating the tranquility and gorgeous settings surrounding you.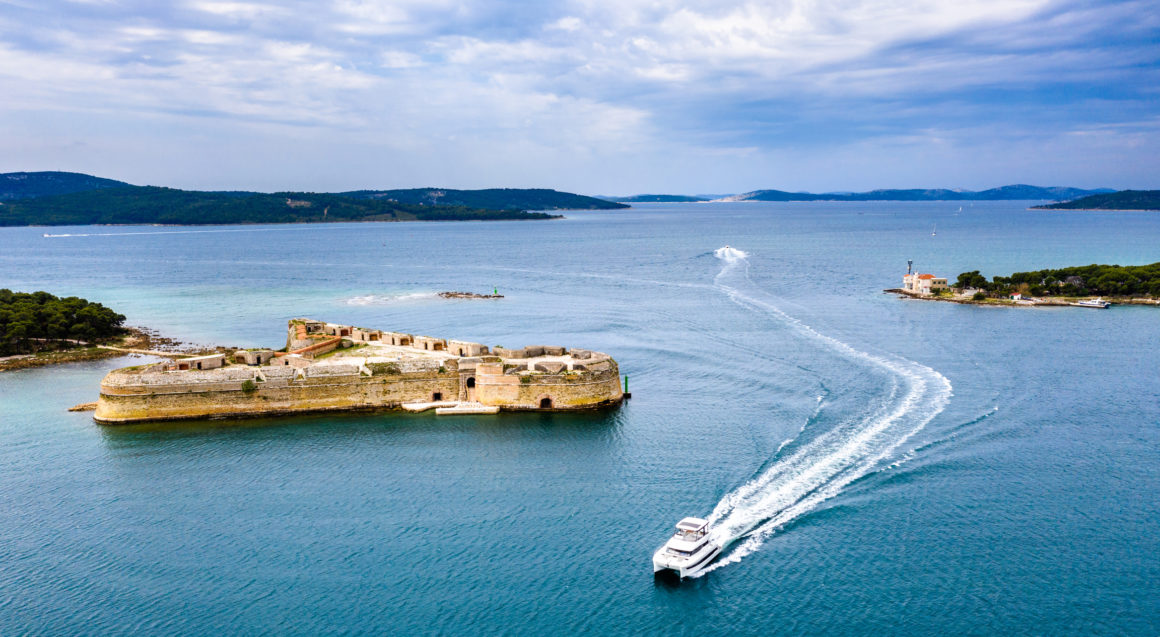 One Week Boat Tour Šibenik – Day 2: Island Kaprije – Islet Ravni Žakan – Island Piškera (13 nm + 5 nm)
For day two of your one-week boat tour from Šibenik, we've prepared a swimming pit-stop en route to Island Piškera. Sail across to the Kornati Islands on the way to Islet Ravni Žakan. Stop off here for lunch at Konoba Žakan, a cosy Croatian tavern with sublime seafood dishes. The small harbour here has electricity and water supply, in case you need a top up!
Spend your afternoon weaving between the little green Kornati islands or sail alongside Kornat Island to starboard, in order to get to your next destination. Otok Piškera is a quiet and uninhabited island during most of the year, though still receives many visitors in the summer season. You'll understand why once you get there! You can choose whether you would like to moor in ACI Marina Piškera, or maybe you'd rather anchor off the coast of the smaller island neighbour Otok Vela Panitula. ACI Marina Piškera has 120 mooring berths, a restaurant and shop.
One Week Boat Tour Šibenik – Day 3: Island Piškera – Island Kornat (4 nm)
On the morning of day three it's a short island hop sail to Otok Kornat (Island Kornat), the longest and largest of the Kornati islands. In Vrulje Bay, you can find some shops and restaurants as well as spectacular coves and slightly mountainous terrain for those who wish to stretch their legs with some nature trails and exploring.
After investigating, hop back on your boat, weigh anchor and set off for Island Levrnaka. This island is much smaller, yet just as beautiful. Especially Lojena Beach, a popular sunbathing and swimming spot. On the opposite side of the island, there are two restaurants, Konoba Andrija and Konoba Levrnaka.
One Week Boat Tour Šibenik – Day 4: Island Levrnaka – Telašćica Bay (7 nm)
Welcome to one of the Adriatic's most stunning (and safest) harbours. Telašćica Bay is truly wonderful and even has the local nature park named after it. Telašćica Nature Park has a salt lake, as well as dramatically steep cliffs on the coast. There are plenty of restaurants and cafes here where you can sample some local Croatian food. Anchor in your bay of choice and watch the sun sink into the Adriatic Sea with a glass of rakija.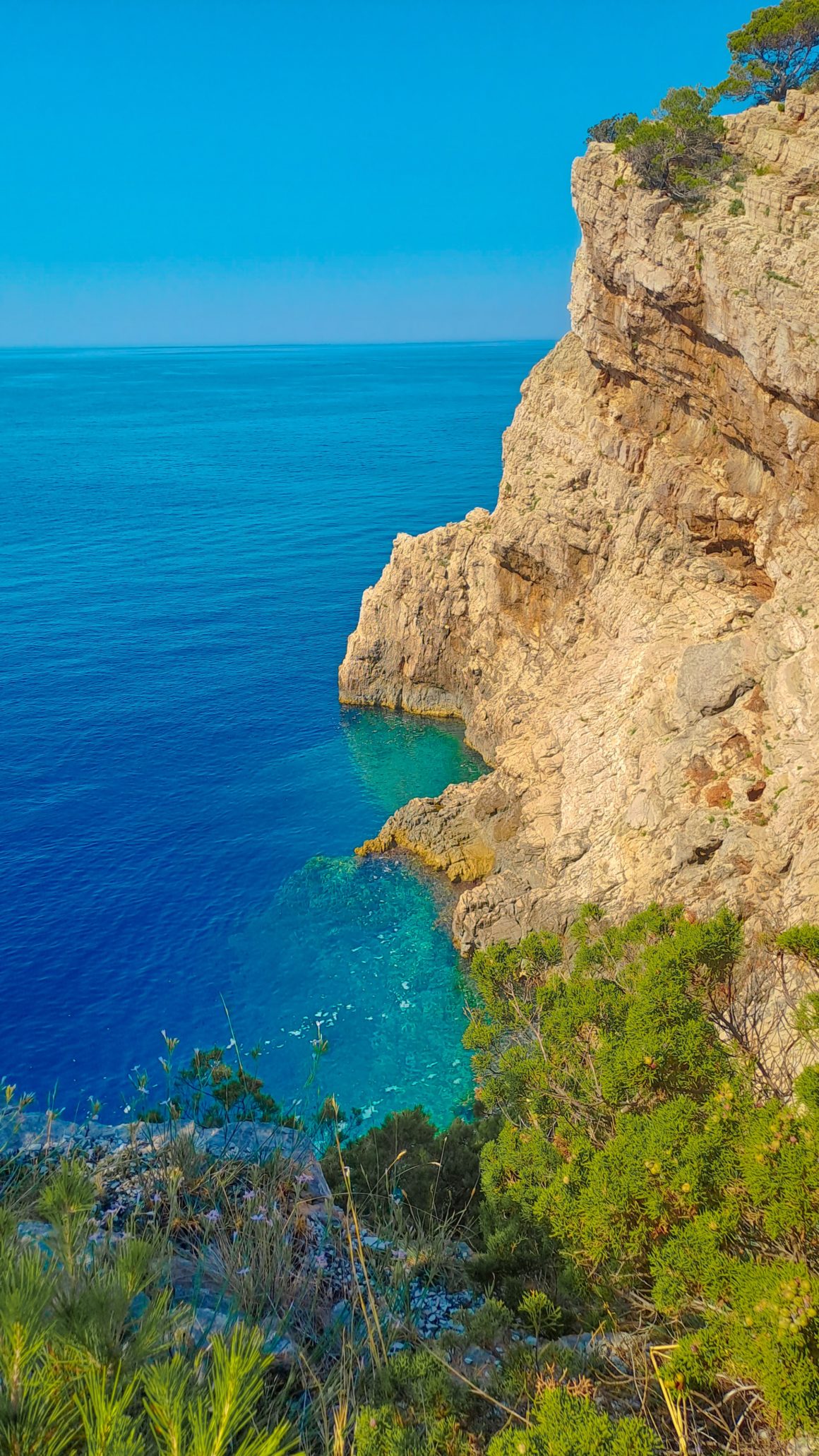 One Week Boat Tour Šibenik – Day 5: Telašćica Bay – Island Katina – Island Žut (5nm + 5nm)
A nice and equally split sail for day five. Visit Island Katina first and then anchor in a cove or ACI Marina Žut for the night.
The island Katina is an uninhabited island, though its geographical position between Dugi Otok and Island Kornat means that it entices explorers to visit in the summertime. On the southern bays of the island, Šporka Mare is a well-known and loved restaurant.
Island Žut is a luscious island with olive trees, vineyards and many fig trees, too. The northern side of the island has shops and markets and the island in general has many bays where you can anchor safely and enjoy a swim.
One Week Boat Tour Šibenik – Day 6: Island Žut – Island Kornat – Island Žirje (14 nm + 11nm)
Day six has a good few hours of sailing (depending on the weather conditions of course) with a stop on the tip of Island Kornat at Opat Bay for some lunch and a swim. Opat Bay has a fantastic restaurant, Konoba Opat owned by a Croatian family where you can eat traditional Croatian cuisine.
Choose where you want to dock in Island Žirje, as the northern bays are closer to Žirje town. The bays have plenty of rocky coasts, ideal for snorkeling and exploring underwater creatures and beauty. Velika Stupica is a beautiful bay on the southern part of the island, too.
These islands are close to Šibenik, meaning if you would like to alter your boat tour, you can venture to Šibenik and other mainland coastal villages from here!
One Week Boat Tour Šibenik – Day 7: Island Žirje – Marina Frapa, Rogoznica (17 nm)
Sail back to Rogoznica on your last day, ready for check-out the following morning. Rogoznica is picturesque and also has a few islets and islands off the south coast. So, if you find yourself with itchy feet on the sail back and an urge for some last minute exploring, we recommend exploring these islets such as the Smokvica islands nearby.
You can rent various boats in different locations along Šibenik country's coastline. As well in Rogoznica, you can do this route with a boat rental from Kremik, Skradin, Vodice, Tribunj and Tisno!
We hope you enjoyed your boat tour and would love to hear about your sailing experiences! Tag us on Instagram or Facebook and don't forget to check out our other sailing routes on our blog!