The charter region of Antigua and Barbuda makes sailors' hearts leap for joy. Ideal wind conditions, excellent marinas, a vast number of landing stages, and wonderful natural harbors await your arrival along the 95 miles long coastline. Locals claim that in Antigua and Barbuda, there are 365 different beaches, which offer lots of variety and possibilities to explore the islands. But which sailing destinations in Antigua and Barbuda should you definitely not miss? Which harbors and marinas offer the most? Here are our recommendations for the best ports and sights in their immediate vicinity.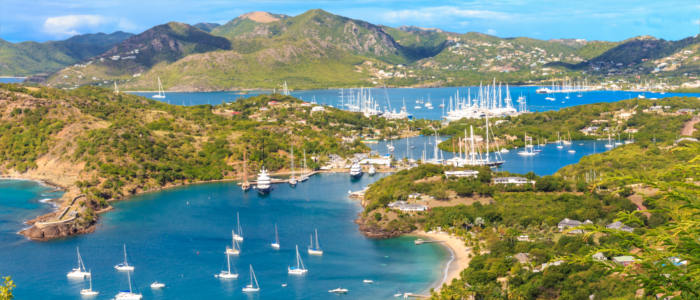 The port city of St. John's
The port city of St. John's is the capital of the island state and is located in Antigua. There are many wonderful sandy beaches and suitable places for all kinds of water sports. St. John's is particularly well-known for its Victorian-style buildings, but by night the tradition-rich city turns into a great party location. Why not have a cocktail? Numerous bars and live bands invite you to spend the hot summer nights outside.
The port of St. John's has 10 berths for yachts with a maximum length of 60 meters and a maximum draft of 8.50 meters. Despite its low number of berths, the port offers many nautical services and things to do. You can choose between a wide range of sports activities, go to a restaurant or bar, or do a bit of grocery shopping at a supermarket.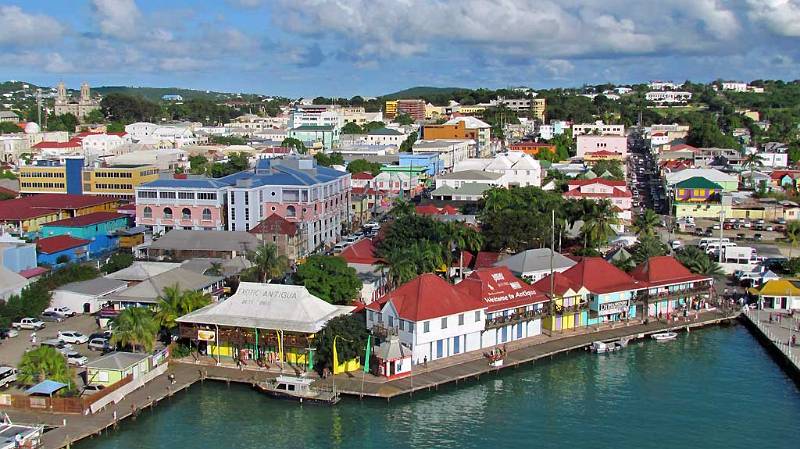 English Harbour
One of the most impressive marinas in Antigua and Barbuda certainly is the English Harbour. The beautiful natural harbor on the south coast of Antigua is considered the safest port in the Caribbean, due to its sheltered location. Many sailors use this world-renowned harbor as the starting point of their sailing trip or to set up an intermediate stop here. The English Harbour also houses Nelson's Dockyard, which is currently the only Georgian shipyard in the world. It was extensively renovated in the 20th century and now forms a big national park. A must-see sight is the building that was once home to the well-known Lord Nelson. Today this place is called Admiral's Inn and attracts many visitors who come to learn about the legendary Lord Nelson.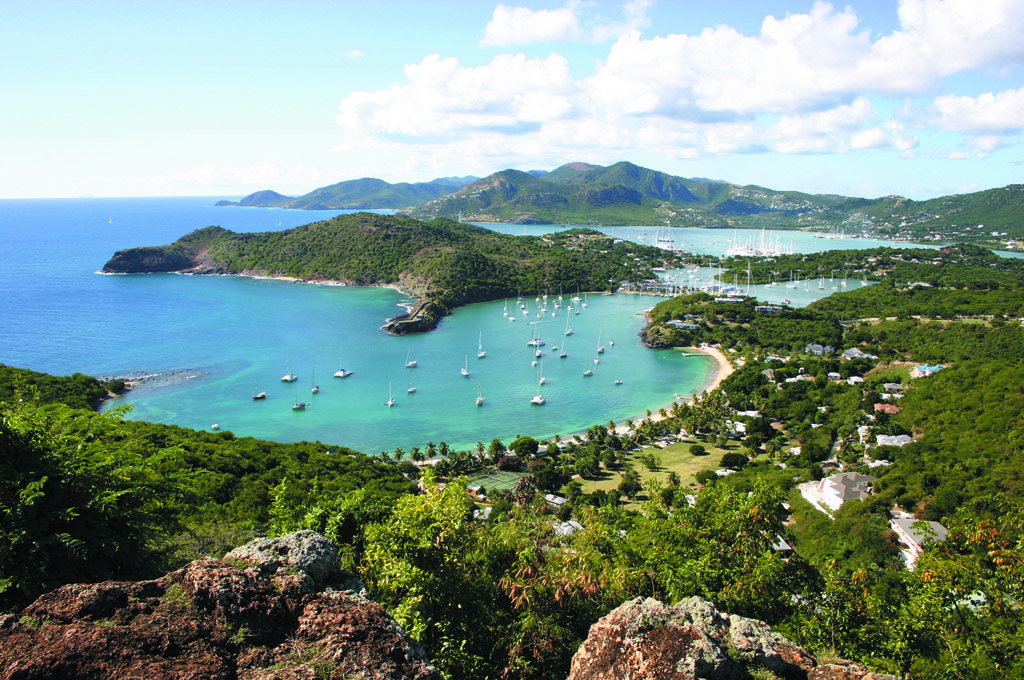 Jolly Harbour
The Jolly Harbour, one of the westernmost sailing destinations in Antigua and Barbuda, is located in Bolands. Due to its size, it's home to countless charter companies, where boats are chartered mainly during the winter months, as then optimal sailing conditions prevail. Jolly Harbour offers all sorts of services, such as water and electricity connections at every berth. Their Travelift allows maintenance work on boats up to 75 tons. About 150 medium-sized boats with a length of up to 60 meters and a maximum draft of up to 4.20 meters can be accommodated there. If you just need a short stopover at Jolly Harbour, the supermarket offers the best way to replenish your provisions. If you plan to stay for a longer time the villas and apartments surrounding the harbor offer a comfortable alternative to overnight stays aboard.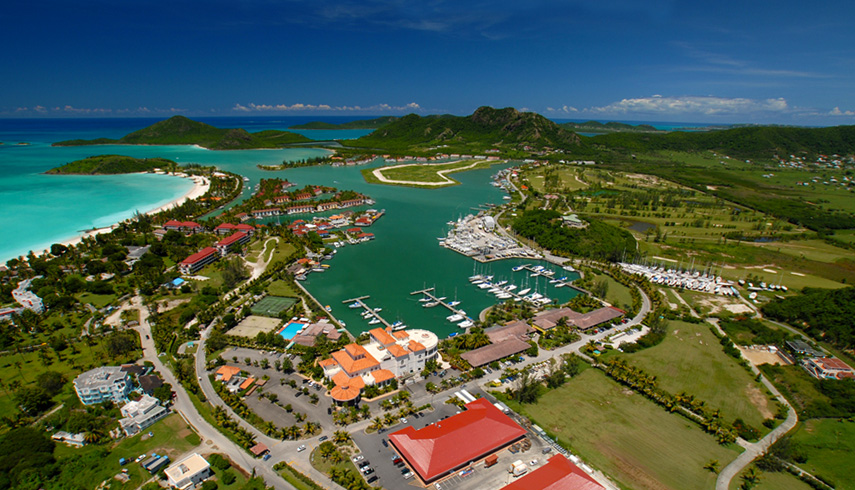 Falmouth Harbour
Falmouth Harbour, in the south of Antigua, also makes up an important destination for sailors. It has 50 berths for boats with a maximum draft of up to 6.40 meters and a maximum ship length of 60 meters. The port has its own petrol station and offers many nautical services. Moreover, the airport is not far away, which leaves the possibility to start a sailing route around Antigua and Barbuda from there.
Just 3.3 km from English Harbour, Falmouth Harbor offers a sheltered location with its bay bordering a chain of hills. Three forts were once built around the hills – Fort George on the highest point above the port, Fort Charles on the small island of Blake Island, and Fort Taylor on the opposite side. Unfortunately, hardly anything remains from the strongholds.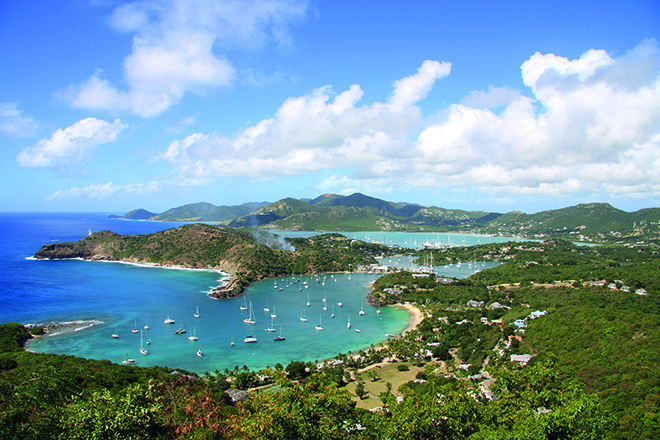 Marina Codrington
Barbuda's biggest city is called Codrington and is located on the west of the island. The marina of Codrington has 30 berths for boats with a maximum length of 40 meters and a maximum draft of 9.10 meters. In immediate proximity to the port, you will find supermarkets where you can easily fill up your ship's supplies. This is why the marina is one of the most popular sailing destinations on Antigua and Barbuda. Also in the evening, the marina offers some great opportunities to top off the day. Do you want to experience the authentic Caribbean flair? The many restaurants and cozy bars close by inviting you to enjoy your evening there.
If you are planning an extended stay in Codrington, you should definitely visit the Codrington Lagoon. It is home to 170 different bird species, and about 5000 frigate birds live there. Another place worth a visit is the Two Foot Bay in Codrington. This beach, surrounded by rocky hills, offers a unique landscape. It is rich in limestone caves and ancient grottoes, and even a two-thousand-year-old skeleton was found there. Locals believed that the caves were once inhabited by the Arvak Indians. The tribe worshipped their gods there and drew paintings on the rocks in their honor.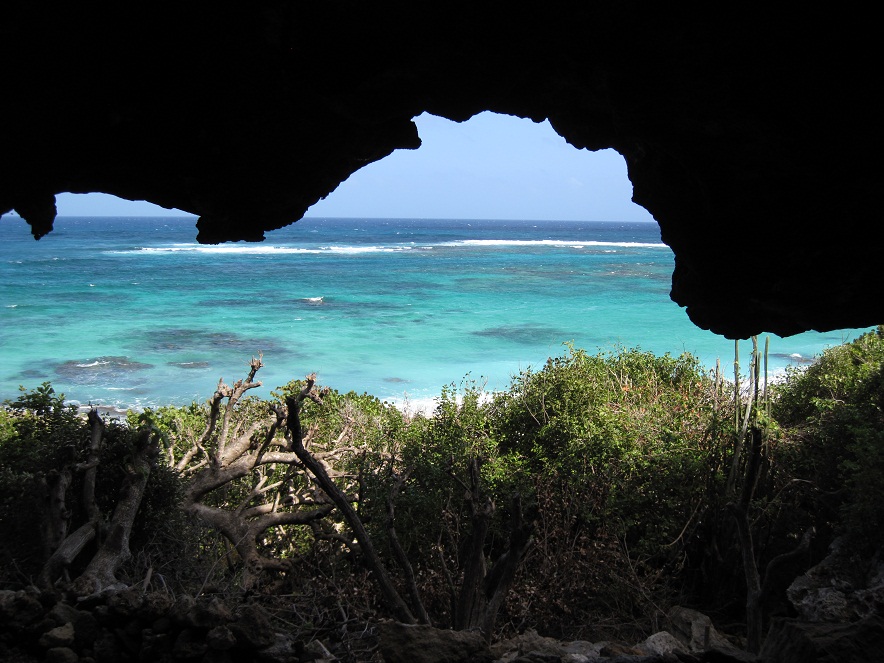 These are some of the best harbors in Antigua and Barbuda. We hope that our recommendations gave you some valuable insights, so you can easily plan your own sailing route. If you need help picking a sailboat or catamaran, or if you need some more ideas for routes, we are happy to help you out.
Have you been to Antigua and Barbuda before? What were your most important sailing destinations and marinas there? We would love to hear from you!