Indulge in the crystal clear waters of Saint Martin and the Leeward Islands in 4 days
Take advantage of the line-to-sight sailing in Saint Martin and the Leeward Islands. This means that you have the option to embark on long days of sailing, or simply relaxing short hops. No matter what, it is great to sail from one mesmerising bay to another. These routes were inspired by the privilege of being able to do both, and therefore there is a mix of journey lengths incorporated into the route. It is aimed at intermediate sailors with lots of family fun activities on the way. There are many breathtaking beaches to explore, and the best of the Caribbean nightlife, perfect for couples or groups.
To make sure you get the best sailing experience possible, take a look at how to choose a boat tailored to your needs.
Start your 4-day sailing itinerary in Marigot Bay
This map gives you a first overview on where this short itinerary will lead you: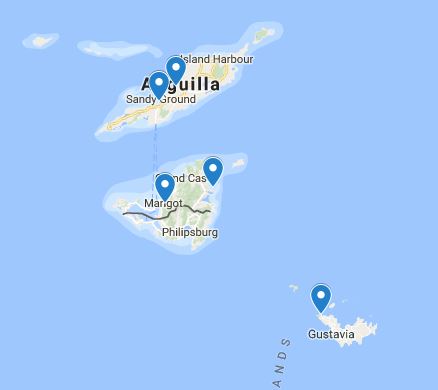 Day 1: Marigot Bay, Saint Martin to Road Bay, Anguilla (18 nm)
Day 1 of your sailing experience will begin on Marigot Bay. It is located on the western coast, in the French part of Saint Martin. Here you can experience the historical charm that this mesmerising island has to offer. Marigot Bay turned into the capital of Saint Martin when Louis XVI was the king of France (1774 – 1793). If you get the chance before embarking on your voyage, one of the landmarks worth visiting, is the old Fort Louis.
Down by the harbour, you will find many luxurious shops for you to take a sneaky peak in before heading to your charter boat. You can collect your Nautal charter boat from Marina Fort Louis, which is situated in Marigot Bay. There are many facilities here, such as water, fuel, showers, laundry facilities, internet, and bank services. So make sure you stock up on anything you might need before setting sail.
After a few hours of preparation and getting to know your boat, it's time to leave this beautiful marina and sail just a short distance to the even more impressive destination of Road Bay, Anguilla. On your way, try and seize the opportunity to anchor by the beach at Grande Case. Here you can swim or laze on the foredeck and absorb the magnificent views of the Pic Paradis Mountain in the distance.
Arrive in Road Bay in the late afternoon and take in the unspoiled Caribbean in its element. Drop your anchor here in the main port and check in with customs before moving to your anchorage for the evening in Stoney Bay, Marine Park. These moorings are available as part of a cruising permit fee, and are provided on a first come, first served principle. In the bay, there is a dinghy dockage and plenty of space for anchorage. As the evening rolls in and you hear those rumbling tummies, you'll be happy to know that you can take your dinghy and easily access the shoreline. Here you will find countless beach bars and restaurants.
Head to Veya Restaurant and tickle your taste buds with authentic Caribbean dishes and a variety of seafood. Whilst enjoying this fantastic cuisine, you will also have the opportunity to enjoy the live music played here each evening.
Day 2: Road Bay, Anguilla to Anse De Colombier, Saint Barts (23.75 nm)
Day 2 of your sailing experience is something to be excited about. First, we highly recommend that you spend your morning enjoying what Road Bay has to offer. Road Bay is one of our favourite anchorages in the Leeward Islands, as like the rest of the island, it's laidback and unpretentious. If diving is your thing, we definitely recommend that you spend a little extra time here. With seven un-deliberately sunken wrecks and home to every type of tropical fish imaginable, this popular diving spot is not to be missed. You can also commerce yourself in other watersports such as snorkelling, windsurfing and jet-skiing.
Grab some lunch at Johnno's bar where you can take your dinghy to the Prickly Pair! Johnno's Beachfront Restaurant is the perfect place to combine all of the things that are wonderful about the island: the beach, the people and the food. So make the most of this lively atmosphere and enjoy the great food, music, cold drinks and good times. Next, it's time to set sail south to the westernmost tip of St. Barths, to the wonderful Anse De Colombier. This sail is slightly further than yesterday's voyage but definitely worth it! Along the way be sure to make a pit stop at the cactus-covered island of Ile Fourche, home to herds of wild mountain goats.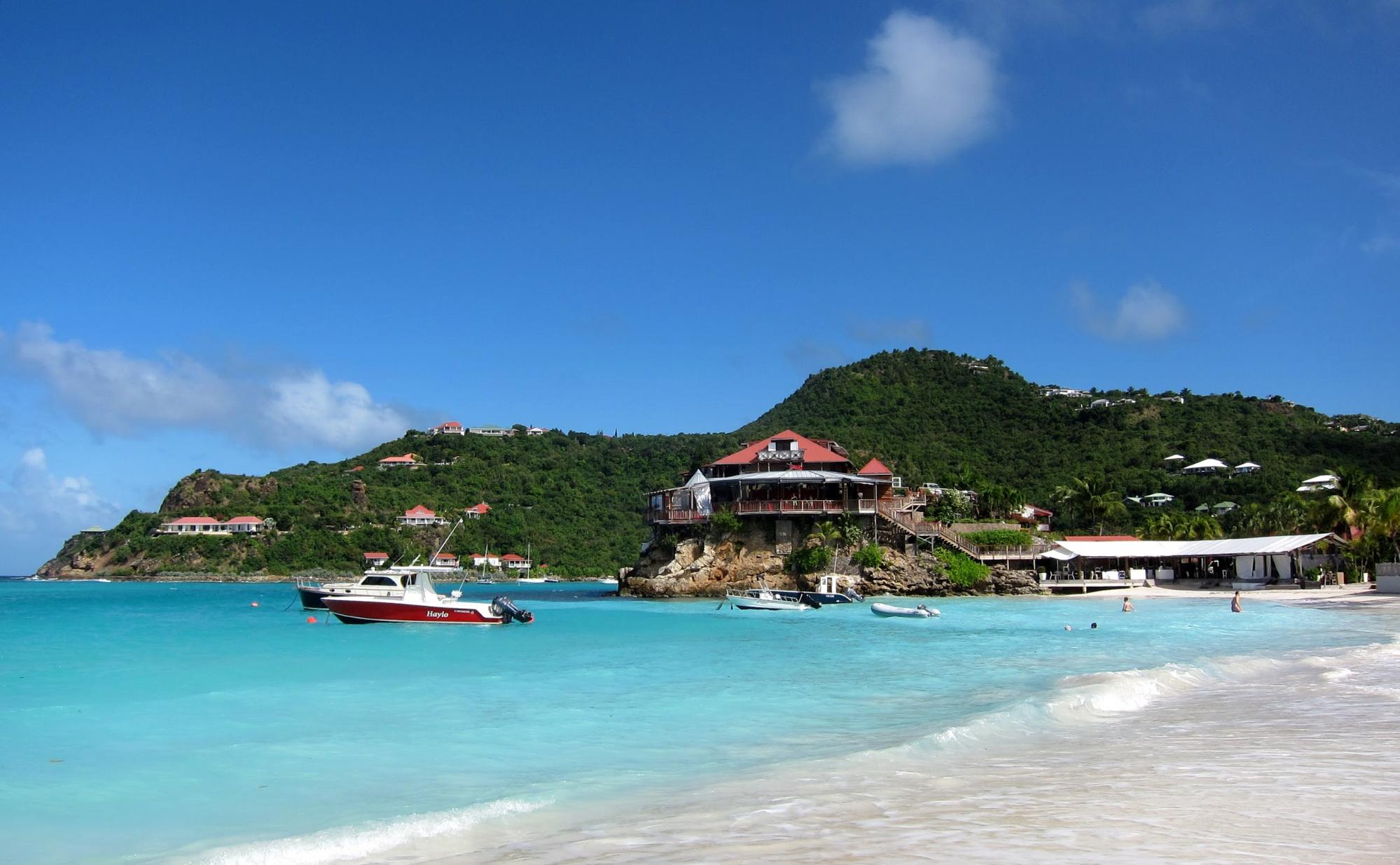 As you embark upon the beautiful Anse de Combier, you will notice a horse shaped bay of shimmering turquoise water. You can moore here free of charge! And it gets better… There is lots of space for anchorage with great holdings. When you arrive at Anse De Colombier be sure to check out the great snorkelling spots. You will probably see more type of fish there than in any big aquarium. Another tip to take on board is to know that the small islets around Ile de la Pointe are also excellent places to explore the underwater world. If you're lucky you may also spot turtles and sea rays.
Before dinner, be sure to explore the north side of the beach. Follow the stairs which will guide you to the top of the peak. You will be able to see stunning and pleasantly smelling flowers as well as cacti. Once you arrive at the peak, you will be welcomed by an incredible viewpoint over the area.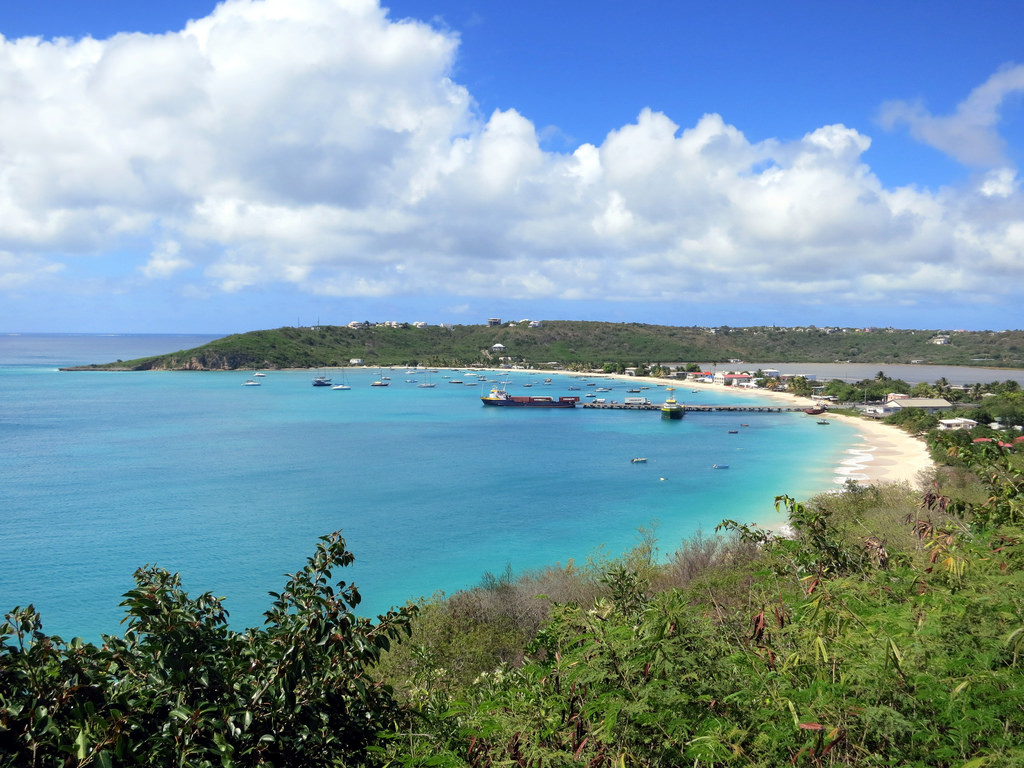 Day 3: Anse De Colombier, Saint Barths to Philipsburg (13.06 nm)
Rise and shine as it's an early start for you on day 3 of your sailing trip. Have a quick breakfast then set sail back to St Maarten where you will head to Philipsburg, the Dutch capital of the island part. Here you can take advantage of the line-to-sight sailing. To make the journey longer you can stop for some great snorkelling experiences. When you arrive in Great Bay, there is a selection of marinas for you to dock. Philipsburg, being the capital of the Dutch St. Maarten, is a bustling place with all the facilities a sailor could possibly ask for. If your journey is just beginning, this is great place to recharge your batteries and fill up on any necessities you may need. If your sailing experience is only just for a few days then this is definitely a great one to tick off your list.
You should arrive at Philipsburg around lunch time. As mentioned, there is a selection of marinas here. Call ahead and check where would be best to anchor. Once you are on land be sure to head into town and commerce in the many activities there are to choose from. Philipsburg is renowned for being a melting pot of rich cultures and old world charm. It offers the tax free status, so make sure you hit the shops along the waterside for some real bargains! As you shopaholics know, it can be tiring work. To fuel yourselves back up, head over to Ocean Lounge to grab some food and maybe a few cheeky cocktails.
Spend a relaxing evening in one of the many tranquil bars, sipping fine wines. Or if you're still looking for action, spend the evening exploring the multiple casinos, clubs and other nightlife venues.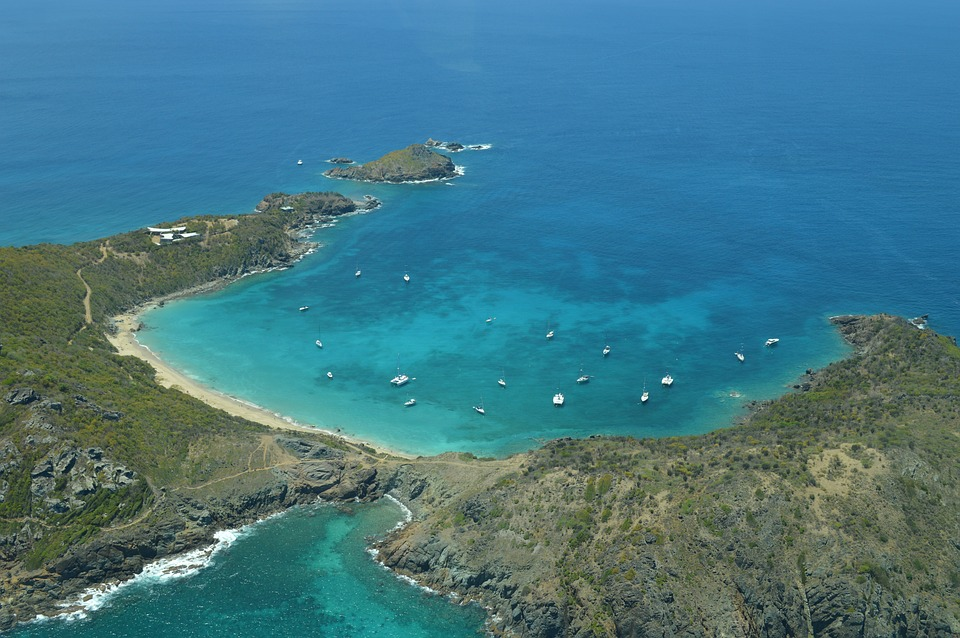 Day 4: Great Bay, Philipsburg, Saint Martin Returning to Marigot Bay, Saint Martin (14 nm)
Day 4 is unfortunately your final day of your sailing holiday, but don't be sad. Use your morning to chill out and spend some time snorkelling. Afterwards set sail back to your first and final destination Marigot Bay. Hoist those sails and absorb the last of that truly spectacular Caribbean scenery.
We hope you enjoyed your trip and have taken away magical memories to last a lifetime! Until your next voyage…
If you're planning on sailing for more than 4 days, have a look at our itineraries for sailing charters of 7 days and 10 days .
Or have you set sail in Saint Martin and the Leeward Islands before? Let us now about your experience and which route you took around the different isles.